Most fighter reactions have been negative towards the news of former pro wrestler CM Punk joining the UFC with zero fighting experience. You can see their point, I mean they work their butts off for years fighting amateur for no money and then fighting on local shows for next to no money all for just a sliver of a shot at the UFC and here comes CM Punk who can just stroll into the organization.
I don't necessarily agree with their anger towards the situation but I understand it. However, some fighters are actually open and supportive of CM Punk. Urijah Faber praised him for wanting to step in there and said 'who are we to tell him he can not'. Matt Mitrione also tweeted support for Punk saying that he also entered the UFC 0-0 and wished him good luck.
But last night the new welterweight champion of the world Robbie Lawler extended a helping hand to Punk inviting him to come to American Top Team. The champ tweeted the following: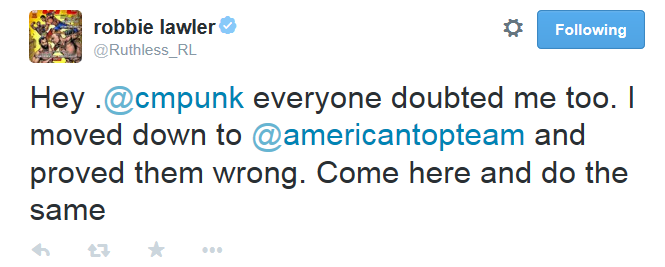 Punk hasn't responded yet, in fact he was true to his word and seemingly hasn't been on twitter since his announcement. ATT would be a great place to go, everyone in the game has been through there including former WWE star Bobby Lashley who now juggles MMA with pro wrestling.
Regardless of what you think of the situation you have to admire Punk for wanting to get in there. How many people out there think to themselves 'I'd like to do that' only never even go to one training session and here is Punk stepping out onto the worlds biggest stage in MMA.
Related Stories:
Possible Opponents for CM Punk
CM Punk media scrum
Phil Baroni calls out CM Punk
Green Power Ranger wants to fight CM Punk
Pro Wrestlers in MMA