Many of us grew up watching The Power Rangers, we all had our favourite and mine was the green ranger who just happens to be Jason David Frank.
So what does JDF do with his time these days? Well he still kind of acts and he kind of does MMA too.
He made his amateur debut early 2010 and won four straight via first round stoppages and then made his pro debut August of that year defeating another fighter making his debut via first round stoppage.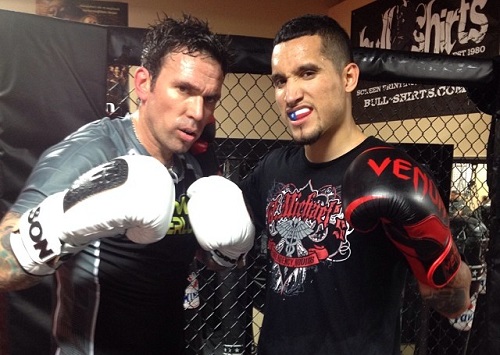 So what has he done since? Well, just like his acting, not much….. He had a rumoured fight to take place in Legacy FC but that got delayed before being swept under the carpet. If you pay attention to his social media he puts up regular statuses about training and posts pictures from his legitimate sponsors but a second pro fight has yet to come into fruition. Now the 40-year-old has put his name back out there after challenging pro-wrestler CM Punk to a fight.
"So now that CM punk is out of his contracts and wants to do MMA. Why not me?", JDF said via his Facebook page last night. "He already said he fight me. I got this on video from a fan. Come on CM punk we could make this a awesome fight. Plus his weight is way down. This is a recent pic. I'll make any weight to make this happen!! JDF"
The video mentioned above is from December 2012 where CM Punk said at QnA he would fight JDF but that in no way could be taken serious given the different situation the pro-wrestler was in.
Does anyone else wish Elite XC was still around so they could throw money at this so everyone could see what would happen if these two fought?
Here is the tale of tape anyway:
Jason David Frank aka Tommy Oliver/Green Ranger
Age: 40
Height: 5ft 11in
Record: 1-0 Pro, 4-0 Amateur
Background: 7th Degree Blackbelt in Karate and Purple Belt in BJJ
Trains: Silverback MMA
Philip Jack Brookcs aka CM Punk
Age: 35
Height: 6ft 2in
Record: 0-0 MMA, WWE Champ
Background: Taekwondo and BJJ (no grading).
Trains: Rener Gracie/Gracie Jiu-Jitsu
Below is JDF's third fight, just incase you didn't believe me he has fought MMA before, in which he won via KO (knee). Skip to 3:50 to see the finish;