This Saturday night Irish fighter Tommy McCafferty (6-0) will be looking to extend his undefeated run to seven fights when he takes on France's Teddy Voilet (8-1) in the main event of UXC III.
This will be the 29-year-old's first fight since Cage Warriors ran into some internal problems. McCafferty had signed a multi-fight exclusive contract and only had the chance to compete once under the Cage Warriors banner. One might assume that this disappointing turn of events could be distracting to the fighters involved but McCafferty maintains it is still business as usual.
"Cage Warriors closing temporarily hasn't really affected me too much, I've still been training and developing and I look forward to showcasing my improvements when it starts up again. I think it is a huge loss to European MMA at the minute and hopefully it gets going again in the near future as it was a great show to fight on."
As previously mentioned, McCafferty faces Teddy Voilet this weekend but the Frenchman came in as a replacement taking Artem Lobov's place in the fight. It had been rumoured that Lobov was considering attending the TUF tryouts, which took place this week, and McCafferty isn't happy that Lobov accepted the fight knowing that he might travel to Vegas for them.
"No I wasn't aware of it (Lobov thinking of trying out for TUF). I don't know why he took the fight if he knew he was going to TUF but I'm not surprised he pulled from the fight with me. This is the second time in a year that he has done it now and I find it very hypocritical that he complains that people won't fight him and are always pulling out yet I've accepted this fight with him twice and this is twice he has pulled. First time round I was told he retired only to find out he was fighting just two weeks later and now again he pulled out with no exact reason given. But it doesn't matter to me I'll fight who is put in front of me."
That "I'll fight anybody" attitude is evident by McCafferty's acceptance to fight former BAMMA title challenger Teddy Voilet. It is a fight the Irishman is relishing as he knows it will be both a test and an opportunity to showcase his ever improving game against one of Europe's elite.
"I'm happy, and thankful, he has taken the fight. He has a good record and has fought for BAMMA's world title so it should be a good test and I am well ready for it. I really don't care where the fight goes, I've been developing for the last few years and nobody has seen my full game yet. I'm ready no matter where this fight goes."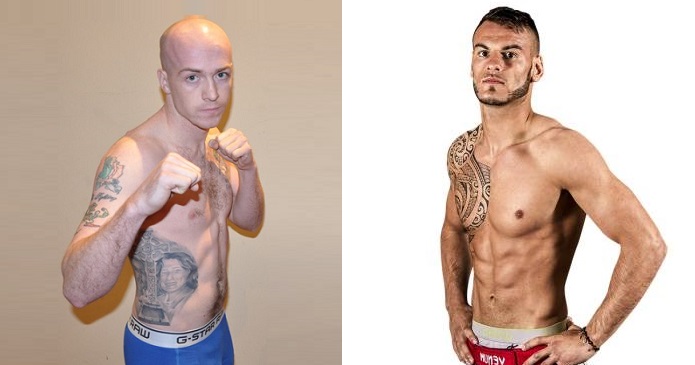 With the current invasion of Irish fighters into the UFC, spearheaded by Conor McGregor, naturally the focus turns to who's next and one name that keeps creeping up is McCafferty's. This could put a lot of pressure on a fighter but not McCafferty, he appreciates the praise but it is nothing more to him until the UFC themselves comes calling.
"Nah, this adds no pressure. To me it is all talk until myself or my management get a call from the UFC. In the mean time I'll just keep training and competing and when it actually comes then I'll think about it. But until then it's just nice to get a mention but that is all it is."
It has been over eight months since McCafferty was last in action but that doesn't mean he hasn't been active. He revealed his recent travels and training, including training with some UFC veterans.
"I'm always active even if I'm not in the MMA arena. I'm always travelling for training. In the last few months I've been to Brazil training bjj and been over training with Paul Daley aswell. I still jump into bjj tournaments when I can and spar anybody that I can whether it be pro boxers, the lads up in EFR and just recently I got some sparring in with George Sotiropoulos when he was training in our gym while he was visiting family. I always keep active and hope to continue competing even more this year."
Click here for the UXC III fight card and event info.
Title image via Dolly Clew/Cage Warriors.