We are a little over two months away from UFC 190 where Ronda Rousey will defend her title against Bethe Correia in the main event. There has already been animosity between the pair as the Brazilian has flaunted her wins over a couple member of 'The Horsewomen', Rousey's friends, but recently things got even more personal.
Correia was trying to hype the fight and said that she would give Rousey a rematch when she finishes her with two punches "one to rip off her mole and the other to actually knock her out" but then followed up with a remark about suicide.
"I will give her a rematch if she doesn't cry too much," Bethe said to Combate, as translated by Bloody Elbow. "She can't take the pressure. I will give her the chance to get the belt back. Please, don't kill yourself, don't commit suicide, because I will give you the rematch."
Rousey obviously caught wind of the comment and took to twitter address Correia: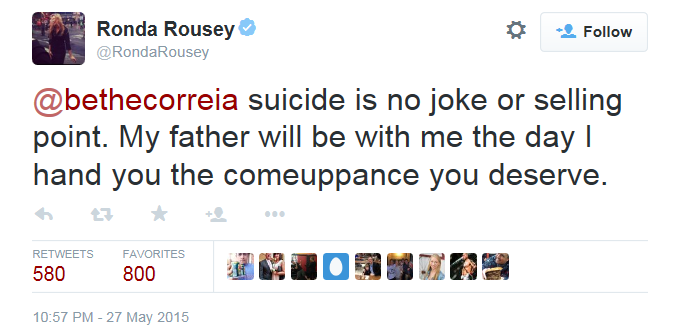 Alan's Angle: A bit of context, Rousey's father committed suicide when she was just eight after being diagnosed with a terminal condition following an accident. It has been said that he was only given two years to live and that he committed suicide in order to stop his family from going into debt.
I doubt Correia was thinking of Rousey's past, or maybe she wasn't aware of it, when she said that and she probably meant it as a joke but regardless it is a very tasteless remark. Regardless of Rousey's past, suicide or the suggestion of suicide should not be used when hyping a fight. The Brazilian should make a public apology about her remarks.
UFC 190 takes place August 1st and it also features 'Little' Nog vs. Shogun and 'Big Nog' vs. Stefan Struve.
Related Stories:
Watch Rousey in the new Entourage trailer
Rousey makes an appearance with The Rock at Wrestlemania
Rousey and Muhammad Ali's daughter exchange words
Dana wants to speak to Ali's daughter about a fight with Rousey
Cyborg vs. Rousey's Mam on twitter