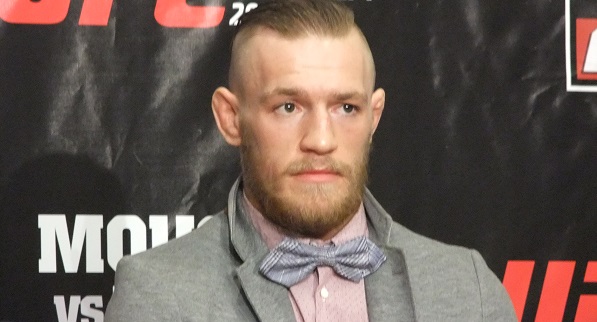 If it is not strutting around a strip club with a lady on your shoulders with NFL Hall of Famer Willie Roaf (see here) it is suggesting a threesome with your co-workers.
Conor McGregor last night replied to a tweet that asked "Ronda Rousey or Miesha Tate?" McGregor's reply; "One ridin dick, one lickin ma toes."
With this response he is certain to face disciplinary action from the UFC brass. McGregor himself knew he was wrong to tweet that and has since deleted the tweet from his twitter and offered up this apology on his facebook and twitter;
"I would like to personally apologize to both Ronda Rousey and Miesha  Tate. This morning I quoted a song on Twitter in an attempt to make a  joke, which I now I see was totally unacceptable and offensive.  I have  infinite respect for Miesha and Ronda as individuals and as athletes.  I  have always been a big fan of women's MMA and the incredible talented  athletes that compete in the sport.  I regret making this offensive  comment and I sincerely apologize to anyone whom I offended, but  especially Ronda and Miesha."
No word yet on whether the UFC will punish McGregor over this tweet but odds are they might just to prove a point to fighters to remind them that you must think before you tweet.