We are a little over three weeks away from 'the biggest featherweight fight of all time' when Irish superstar Conor McGregor challenges Jose Aldo for the title in the main event of UFC 189 in Las Vegas.
The spotlight is on both fighters with any story regarding the two making headlines. A few days ago a video made the rounds of the internet of Jonas Bilharinho seemingly mimicking the moves of Conor McGregor to an on looking Jose Aldo.
I sought out a few comments from the Jungle Fights featherweight champ who stands at 6-0-1 in his professional career and he is indeed part of Aldo's camp and he is there to prepare him for McGregor.
"[I am there] to emulate Conor McGregor and prepare Aldo for the unexpected."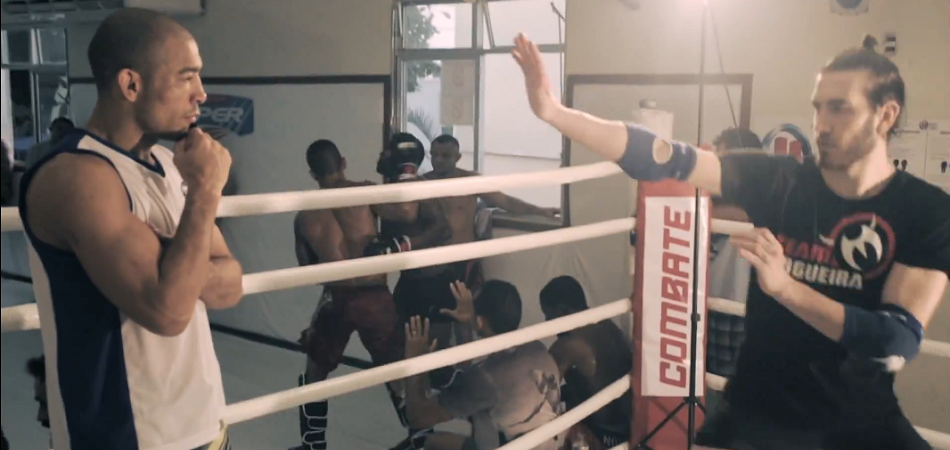 To emulate a fighter one must assume a lot of studying must be done. Bilharinho shared he thoughts with me about McGregor as a martial artist, the way he fights and as a person from what he has seen.
"He is talented and got some skills. But I must say that it's not new, my fighting style is like his. People think that is new (his style) just because they are not used with martial arts. Conor is a great martial artist, but talks too much. As a person I don't know him but he seems to be a nice guy (but) I think he is not respectful. Aldo is the number 1 pound for pound fighter in the world, Conor shouldn't say those nonsense stuff."
As Bilharinho is spending a lot of time with Aldo I asked him what he believes the champ thinks about McGregor and the answer comes as no surprise."Aldo thinks he is an asshole and I sign below. Aldo will kill him on July 11 and I will bury (him) when the UFC give me a chance. Aldo never talks about him."
It apears that Bilharinho could be joining the UFC in the near future. He stated that when the UFC gives him a chance and I asked him how close he is to signing. "I'm waiting, my manager is talking to the UFC. My goal is to live doing what I love to do, and this is a reality already."
Lastly, I asked him for a simple prediction for Aldo vs. McGregor."Aldo will knock Conor out."
You can follow him on twitter @JonasSpeed and on Facebook.
(Title Image via Raphael Marinho/Globo Sport TV)
Related:
Meet the fighter Aldo hired to mimic McGregor
JCVD wants to spend time with McGregor
Aldo vs. McGregor: Rule The World
UFC 189 Official Trailer
Chael Sonnen believes Aldo will run through McGregor