Mixed Martial Arts, a sport that most red blooded males (and some females) would like to try. Many imagine themselves coming into an arena to certain song or daydream about who they could take on in a fight in the UFC with a little bit of training but very few actually do it.
You see, MMA is not like soccer or basketball or most sports to be honest. Although many want to try it, very few actually do. Some may go training or go to the odd BJJ class but the percentage that actually follow it through all the way to compete in a cage is very small.
It is to no surprise that athletes in other sports venture into MMA. Athletes, by nature, are competitive and MMA is an ultra-competitive sport. We have seen boxers, kickboxers, NFL players and pro-wrestlers enter the world of MMA but they are all highly physical sports (yes, even pro-wrestling) where its competitors are athletic and constantly being hit, tackled, lifted, slammed etc.
What about strongmen and bodybuilders? Both are sports featuring the visual 'ultra-males' with their sheer size, bulging muscles and oozing testosterone levels. YouTube star and bodybuilder Kali Muscle released a video earlier this week that teased his intentions of entering MMA and thus served as the catalyst for this article. It is not the most ideal background to come from. Muscle mass can hinder a person when fighting, you can gas very quick as muscle fatigue can set in easily through the demands of the sport.
Despite this obvious hindrance it hasn't stopped people trying to cross over to MMA from bodybuilding or strongman competitions. Here is a list of people who made that switch.
Mariusz Pudzianowski (7-3, 1 NC)
What would this list be without including 5-time 'World's Strongest Man' Mariusz Pudzianowski. The Polish superstar transitioned to MMA in 2009 and has had surprisingly good success. However, all bar one of his fights have taken place in the KSW promotion in Poland. He holds notable wins over 'Butterbean', Bob Sapp, Sean McCorkle and Oli Thompson. One thing that has hindered his credibility is that all of his fights are 2x5min rounds as opposed to the traditional 3x5min rounds.
Oli Thomspon (12-7)
Briefly mentioned above, this fighter has had incredible success in MMA given his background, he made it all the way to the UFC. The 2006 Britain's Strongest Man entered MMA in 2009 and within three years he made his debut in the UFC. He fought twice there, losing both time, but considering he came from strongman it is highly commendable that he made it to the big show. Since his UFC release he has gone 3-3, with his most recent fight being a controversial decision loss to Pudzianowski.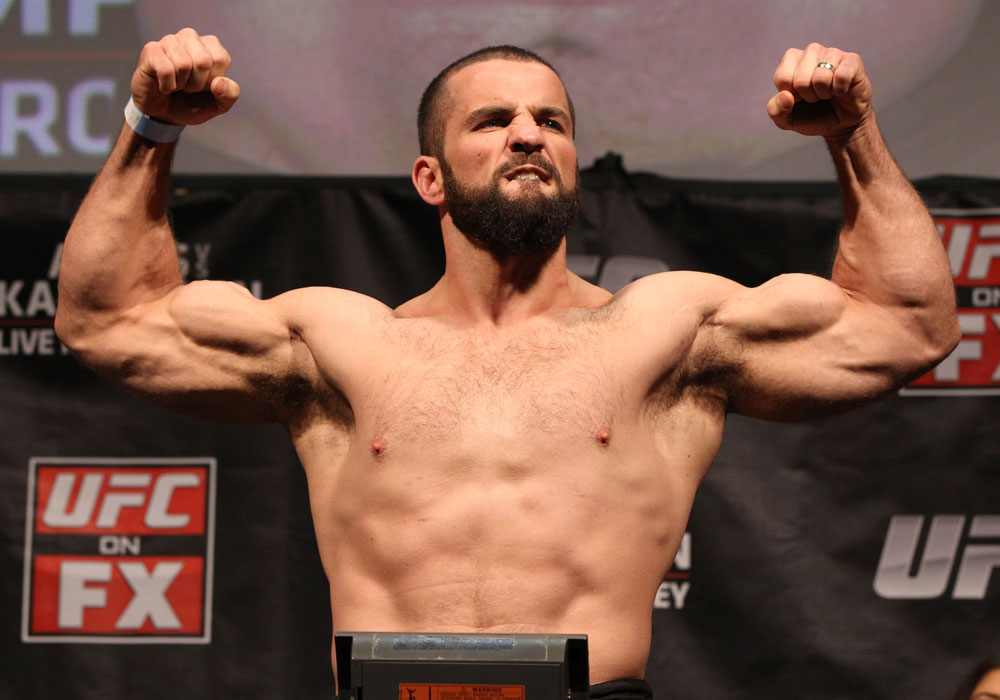 Kamila Porczyk (2-0)
The female bodybuilder, pictured right in title picture, has won Miss Universe Fitness on three occasions. The 37-year-old made her MMA debut last year and won both of her fights in impressive fashion. She defeated her first opponent dominantly and then in her second she faced the previously undefeated Iryna Szaparenko, a much younger but yet more experienced fighter.
Robert Burneika (2-0)
The Lithuanian bodybuilder and strongman achieved his goal of becoming an IFBB Pro in 2009. Three years later he then decided to try his hand at MMA and won his debut by hammering his opponent into submission. His second outing did not go as planned, he faced Dawid Ozdoba and had difficultly dealing with his striking and got dropped in the second. There was a bit of controversy in the third round as the referee disqualified Ozdoba for lack of engagement, something I have never heard of. There is no mention if Burneika will fight again.
Bill Kazmaier
The former Worlds Strongest Man was amongst the major characters of the strongman scene and his battles with Geoff Capes and Jon Pall Sigmarsson in the 80's are one of the highlights of the competition's history. The man known as 'Kaz' then briefly ventured into a MMA-type competition with renowned Dutch martial artist Chris Dolman aka 'The Dutch King of Free Fight' in a limited rules match. I am not sure how serious this 'fight' is, do remember this is pre UFC, but it is kind of fun thinking about 'Kaz' being in a martial arts bout given his nature in strongman comps.
What did you think of our list? Did we forget anyone? Let us know what you think of our list on our Facebook page.