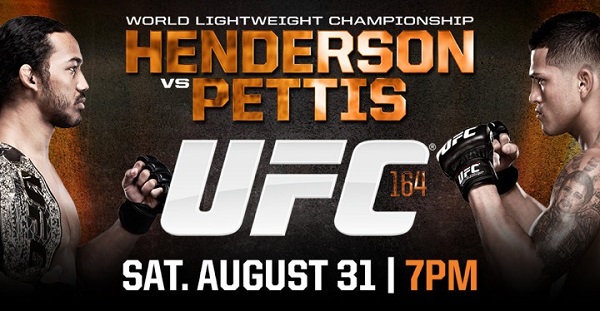 Well a number of highly anticipated fights have come and gone with UFC 164. Here we take a look at some of the fighters' stock as a result of their performances.
Anthony Pettis def Benson Henderson via armbar in round 1.
Anthony Pettis (17-2): What can I say….I was among the doubters that he would win. This victory skyrockets him through the roof! The fact that it was a first round submission win over the, now former, champ has silenced everyone. No doubt his stock rests on top above all others in the UFC's FW division.
Benson Henderson (19-3): 'Smooth's' run had to come to an end sooner or later and after three title defences, some questionable, it happened. This loss however will damage the fighter more than any other as it was to a fighter he had previously lost against. As long as Pettis is still champ, Henderson will have to defeat everyone around and then some before the UFC can justify giving him a crack at 'Showtime' again. His stock rests him at number two but as long as Pettis is champ his stock is down immensely.
Josh Barnett def Frank Mir via TKO in round 1.
Josh Barnett (33-6): What a return for the former champ. People had their reservations about Barnett's ability because he hadn't fought in the UFC, where supposedly all the best are, in 13 years. But this win over Frank Mir was a stern reminder that Barnett means business! Simply put, his stock shoots up.
Frank Mir (16-8): Now on a three fight skid, albeit against the top guys, his reputation is a little tarnished. Mir is a legend of the UFC: 22 fights, 2 runs as champ, broken bones and much more, but should this come to an end? Hard to answer that, but it would be a long long road back to a title shot. Stock goes way down.
Chad Mendes def Clay Guida via TKO in round 3.
Chad Mendes (15-1): He is on cloud nine at the moment. Only the second fighter in UFC history to TKO four opponents in a row. His last and only defeat was to Jose Aldo, maybe it is time for these two to meet again. His stock is at its peek and the only way it could get any higher is if he becomes champ.
Clay Guida (30-14): Once a fan-favourite due to his fighting style, but recently more cautious – not something that Dana White wants his fighters to be. Guida is now on a 1-3 skid, his first since 2007.  It will be hard for 'The Carpenter' to get back in the title mix as his stock continues to go down.
Ben Rothwell def Brandon Vera via TKO in round 3.
Ben Rothwell (33-9): He is hot and cold in the UFC and his fight against Vera was somewhere in the middle. Although he got the TKO win he didn't look the powerhouse he should be. He called out Travis Browne after the figh,t but he is nowhere near Browne's level yet. His stock goes up slightly.
Brandon Vera (12-7): He has been a member of the UFC since 2005 and went on a great 4-0 run in the promotion. Currently on a 1-4-0-1 skid, maybe it is time for the UFC to let 'The Truth' go. His stock is as low as it can be.
Dustin Poirier def Erik Koch via unanimous decision.
Dustin Poirier (14-3): He is very rarely in a dull fight and this will always favour him in the UFC. Poirier reaffirmed himself in the upper tier of the division where there is a bubble of 5/6 fighters all chomping at each other. This win keeps his stock up there.
Erik Koch (13-3): 2-2 in the UFC but more than likely a long way off being cut by the promotion, despite the two losses coming in his last two fights. This win separated Koch from the above mentioned group, and pushed him down into the lower group of guys.  He should probably stay there for a couple of fights and improve his game before moving back up in competition. His stock goes down a level.