Jonathan Koppenhaver, more commonly known as War Machine, is in another serious predicament after TMZ reported that the controversial mixed martial artist was the 'prime suspect' in a domestic abuse case involving his girlfriend, pornstar Christy Mack, and another person.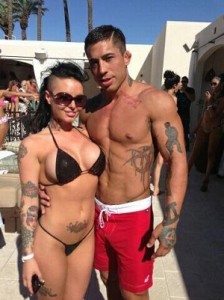 TMZ reports:
"According to police, War Machine was involved in a 3-person altercation early Friday morning at their home in Vegas. Two of the combatants sustained severe, but non life threatening injuries … and were taken to a hospital. One of the victims is described as the fighter's "significant other."
Bellator's Scott Coker, War Machines now-former employer, responded to the incident by releasing the welterweight from their roster.
"We have a zero tolerance policy here at Bellator when it relates to any form of domestic violence, and after learning of this latest incident involving Jon Koppenhaver, War Machine, Bellator is releasing him from him promotional contract with the organization."