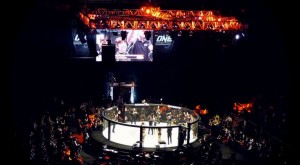 Introducing a brand new series for WHOA! TV – it's Under the Radar – the monthly piece reporting upcoming fights that you should catch, by all means necessary. We won't be telling you to run out and watch that Light Heavyweight tilt between Jon Jones and Alexander Gustafsson; we would hope that you are aware of fights of that stature. It's the fights garnering less attention that we care about. We turn our attention to September, first. 
Pete Sprat vs. Tim Means – Legacy Fighting Championships (September 13th)
Following his release from the UFC, Tim Means (18-5) looks to rebound from a two-fight skid with a win over fellow UFC veteran – Pete Sprat (25-22). Means was unlucky to be released by the promotion, considering a two-fight losing streak isn't the usually the required number for a pink-slip. Dropping decision losses to Jorge Masvidal and Danny Castillo, two very talented fighters, make it even more surprising to see the UFC release him. But there's a silver-lining – we have a possible barnburner in the LFC.
Pete Spratt may have a mediocre record, at best, but he is the perfect dance-partner for "The Dirty Bird". Spratt is a seasoned veteran. He has shared the cage with some of the world's very best fighters including Georges St. Pierre, and he loves to finish fights. Even in a loss he dislikes the decision, with only four of his twenty-two loses going to the judges' scorecards. This one could be fireworks.
Patricio Freire vs. Diego Nunes – Bellator MMA (September 13th)
Okay, this is one I was going to stay away from. It is the main event of this weekend's Bellator offering, but in many ways it's flying under the radar; an unfortunate by-product of holding an event the day before the biggest fight of the year – Mayweather vs. Canelo.
Diego Nunes (18-4) debuts in the promotion against Bellator staple, Patricio Freire (18-2). Nunes is another victim of the UFC's roster cuts, after going 3-3 in the promotion and being relieved of duty after a single loss. Ridicule Bellator for picking up "UFC rejects" all you want, but this is a smart one. Although Nunes has failed to finish a fight in his last eleven outings, there have been glimpses of greatness in the Brazilian. Freire is coming off a TKO win over Jared Downing, which came as a follow up to his exciting decision loss to the champion, Pat Curran.  This one could be very interesting.
Curt Warburton vs. Mansour Barnaoui – BAMMA 13 (September 14th)
What MMA event will be superior this weekend? Well, based on the overall card, look no further than BAMMA 13. With title fights galore, the promotion looks to crown a new Lightweight Champion when former UFC fighter, Curt Warburton (12-3) faces Mansour Barnaoui (9-2). With two other title fights above it on the card (including Max Nunes vs. Jason Jones), this is the one that seems to be flying under the radar. But damn, it's a doozy.
Since losing to Joe Louzon, Warburton has amassed a five fight winning streak. The Wolfslair product looks to win championship gold in his home country, but has a Tunisian obstacle in his way. At just 20 years old, Barnaoui looks to spoil Warburton's night by capturing BAMMA gold for himself. This is one to watch.
Jim Alers vs. Martin Svensson – Cage Warriors 59 (September 14th)
With a jam-packed weekend of MMA and a boxing pay-per-view which is trending to be the biggest box office hit of the past number of years; Cage Warriors 59 has been forgotten. In the main event we have a featherweight title clash, pitting Jim Alers (10-1) against the Swede, Martin Svensson (12-3). On the same night where Swedish prospect, Max Nunes, looks to capture BAMMA gold, Martin Svensson looks to make it a truly special night for Swedish MMA, by seizing the Cage Warriors Featherweight Championship.
For fans of the ground-game, this one is right up your alley. The American, Alers, and the Swede, Svensson, do some of their best work when the fight is dragged to the mat. Alers has raked in eight submission victories – identical to Svensson also who has eight submissions under his belt. Don't miss this one.
Jesse Taylor vs. Elvis Mutapcic – World Series of Fighting 5 (September 14th)
Sitting third from the top of WSOF's main card this weekend is an interesting bout between former TUF competitor, Jesse Taylor (26-9), and MFC middleweight champion, Elvis Mutapcic (13-2). Taylor, who has looked impressive in his last number of fights, recently signed an exclusive deal with WSOF following a successful Middleweight Championship run in Cage Warriors.
This is the classic style vs. style fight; wrestler vs. striker. Both fighters are well-rounded, but it's in their respective disciplines where they shine. Taylor uses his Greco-Roman wrestling to drag fights to the floor and look for the finish. He often favours the rear-naked choke. Mutapcic is a deadly striker. He can finish fights with his hands and feet. This is a match-up to keep an eye on.
Pat Healy vs. Khabib Nurmagomedov – UFC 165 (September 21st)
I love this fight, I really do. Pat Healy (29-16-1 NC) is returning to the Octagon after the biggest win of his career, which was unfortunately overturned to a no-contest due to Healy testing positive for marijuana metabolites. Ridiculous, but rules are rules. Healy looks to continue his trajectory towards contenders-status by handing Khabib Nurmagomedov (20-0) his first professional loss; easier said than done.
Nurmagomedov enters the bout riding a twenty fight winning streak, a rare feat. Healy steps into the cage riding a seven fight unbeaten streak – with only three losses in his last sixteen outings. This is another grappling-geeks fantasy. Both fighters have tremendous grappling talents; Nurmagomedov combines his black-belt level Judo and elite Sambo, and Healy brings his aggressive style of wrestling to the cage. I can hardly wait.
Roland Delorme vs. Alex Caceres – UFC 165 (September 21st)
Fair enough, I admit it – I might be a tad top-heavy with the grappling style fights – but come on! How can you not love this one? Would either man walk into the ADCC and dominate the absolute division? No. But in terms of MMA grappling, these guys are exciting.
Alex Caceres (8-5-1 NC), more commonly known as Bruce Leroy, has impressed following his stint on the Ultimate Fighter. His tricky guard has become one of his best weapons in recent fights. He constantly looks for submissions off his back and never lets his opponent rest in top position. In Roland Delorme (9-1) we have another skilled grappler. He holds and black-belt in Judo and a brown-belt in BJJ. If this one hits the mat, look for some beautiful transitions and submission attempts.
Ivan Menjivar vs. Wilson Reis – UFC 165 (September 21st)
With UFC 165 being such a stacked card, predicting the fight night bonuses is difficult. However, a dark horse for fight of the night is this one. "The Pride of El Salvador" Ivan Menjivar (25-10) battles former Bellator, and most recently, Cage Warriors alumni Wilson Reis (16-4). In what is a step-up in competition for Reis, also provides him with a huge opportunity.
Menjivar has lined up against some of the best fighters in the world, including his most recent scrap with Uriah Faber. Wilson Reis has yet to face such competition, although duel fights with Patricio Freire will have helped him get ready for such battles – even though they were defeats. However, he is talented and extremely exciting on any given night. His last fight with Owen Roddy at Cage Warriors 50 is an example of that. Look for this fight to take place in every position, for as long as it lasts.
Sergio Pettis vs. James Porter – NAFC: Battle in the Ballroom (September 28th)
Owning the name Pettis, in 2013, draws eyeballs all by its self. The younger brother of newly crowned UFC Lightweight Champion, Anthony Pettis, looks to make it nine in a row and continue his undefeated run when he clashes with James Porter (7-1). After just turning 20 years old in August, Sergio Pettis (9-0) looks to win his second regional title, following his RFA Flyweight Champion win in June.
Excitement follows the Pettis name wherever it goes, and this one should be exciting. Porter will look to take this one to the ground where he can work his submission skills; five of his seven wins have come via submission. Pettis won't be afraid to get into a grappling exchange with Porter, but he will have a clear advantage on the feet. Pettis will look to use his Duke Rufus trained Muay Thai to strike his way to a victory.
Honourable mentions: Max Nunes vs. Jason Jones (BAMMA 13 – 14th September), Jim Wallhead vs. Eddy Ellis (BAMMA 13 – 14th September), Georgi Karakhanyan vs. Waylon Lowe (WSOF 5 – 14th September)