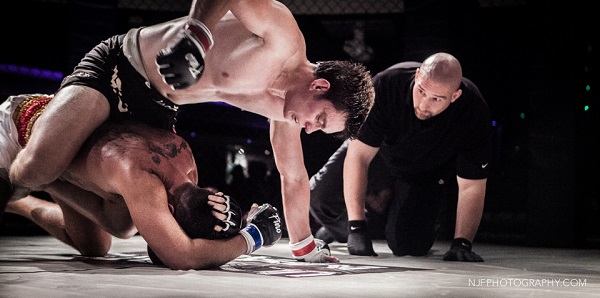 Ultimate Impact Fight Night 1, Saturday, August 10th
Emma Bramford was on-site to give a review.
Today was the day I had been waiting for, it had been awhile since I had been to an MMA event and this of course was not just no ordinary event I was going to report on, this was Mario Saeed's last fight for Ultimate Impact before he heads of to fight under the Cage Warrior's banner.
As usual my trip to any event would not be complete if I did not get lost within being 2 minutes away from the venue, suffice to say Gloucester made no exception!
Greeted as usual by Dan Richards and Paul Sutherland it was time to get this show on the road, but not before introducing the MC for the night Darren Rees and of course not forgetting the Referees' Craig Rutherford and Leon Roberts.
73KG Unified Amateur MMA
Benn Rudd  (Kyo-Shin-Kai)  Debut                                                Mack Stevens  (Fury MMA)    1-1 Rnd 1  Rudd is straight in and gains a takedown landing some nice GnP, Stevens get back to his feet and attempts a takedown, both fighters find themselves in a messy scramble which in turn see's Stevens end up in top position unleashing his own GnP which Rudd is unable to answer too, referee Craig Rutherford calls a stop to the fight at 2.26 second Rnd 1 Winner via Ref Stoppage Mack Stevens.
57KG K1 Amateur (3x2min)
Zowie Trevena  (Revolution Gym) 0-1                          Sammy Donnelly (Combat Warriors) Debut Rnd 1  Trevena straight in with a one, two combination, Donnelly comes back with her own kicks, Trevena throwing good combinations, both fighters are off to a fast paced start, Donnelly comes back with a great right kick, both ladies are not letting up in this opening round.
Rnd 2  Donnelly is putting together a lot more combinations and seems to be getting the better of Trevena who appears to be looking very tired; Trevena making good use of the cage and getting Donnelly caught up against it on several occasions.
Rnd 3  Donnelly straight in with punches and knees, Trevena looking really gassed, Donnelly can sense this, although Donnelly herself is looking tired both ladies refuse to give up and it goes to the judge's score cards.  Winner via Unanimous decision Sammy 'Scrappy Do' Donnelly 29-28.
77KG Unified Amateur MMA
Jamie Richardson (Force MMA) 3-1                                              Ben Phillips (Tillery Combat) 3-6 Rnd 1  Richardson  straight in with a one, two combination, Phillips straight back firing off his own shots.  Phillips manages to get the takedown, but it's quickly back to their feet and Richardson manages to pull off a Standing RNC 1.13 Rnd 1 Winner via Standing RNC Jamie Baby Face Richardson
77KG Unified Amateur MMA
Neil Harper (Trojan) 1-3                                                                 Josh Ozanne  (Outlaw MMA) 1-1 Rnd 1  Ozanne  straight out with a one, two combination, Harper goes straight down, referee Leon Roberts calls a stop to the fight 0.15 secs Rnd 1 Winner via TKO Josh Ozanne.
62KG K1 Amateur   (3x2min)
Asha Patel (YKS Black Dragon)  Debut                                          Laura Handy (Fury MMA) Debut Rnd 1  Both ladies come out fired up for their debut fight; Handy is cut early on from a clash of heads, this an awesome display of great technical ability from both ladies, Handy attempts a spinning back fist but with Patel's great head and body movement the shot misses, a great opening round from both ladies.
Rnd 2  Patel comes out and lands a spinning back fist of her own and starts to double up her jabs, Handy is returning punches received as both ladies are showing a great display of technical skills in this fast paced fight.
Rnd 3 Patel attempts another spinning back fist for Handy to answer back with her own front kick to Patel's face, not fazing her Handy goes in with some uppercuts, Patel again answer's back, this was a great display of sheer technical striking ability from two awesome debut fighters who in my opinion was a contender for #FOTN.  Winner via Unanimous Decision Laura Handy 29-28.
85KG K1 Amateur
James Taylor (Gloucester M A) Debut                                            Ed Modds (East West MT) Debut Rnd 1  Modds is straight out and appearing to 'hunt down' Taylor, he is picking his punches for which it is clear that Taylor does not want to be any part off, in the end referee Craig Rutherford calls a stop to the fight at 1.08 Rnd 1 Winner via TKO Ed Modds.
66KG Unified Amateur MMA
Steve Connelly (Fighting Fit) Debut                                                  Mitch Stevens (Fury MMA) 2-2 Rnd 1 Stevens straight in with punches, Connelley  gets the takedown but it's Stevens who get top position and dishes a bit of GnP, Connelley sweeps round and gets a RNC 0.34 secs Rnd 1 Winner Steve Connelley.
60KG Unified Amateur MMA
Euan Wallace (Trojan) Debut                                                     Matthew Harris (Mad Dogs) Debut Rnd 1  Harris goes in for a leg kick as doing so he slips, Wallace capitalizes on this and as Harris has just returned to his feet, Wallace lands a hard right punch, Harris goes rushing straight back in and attempts a takedown but Wallace sees the opportunity to pull guard and secures in a guillotine choke 1.09 Rnd 1 Winner via Guillotine Choke Euan Wallace.
  77KG Unified Amateur MMA   (3x3min)
Tobias Reid (UTC Cannock) 2-2                                                           Dai Cray (Tillery Combat) 2-3 Rnd 1  Reid straight in with combinations of one, two and uppercuts, both guys trying for a takedown but it's Cray who is pushing Reid up against the cage in trying to gain the upper hand, Reid is defending well at the takedown attempts and also throwing in the odd punch.
Rnd 2 Cray comes out with a spinning side kick, Reid answers back with a right hook, Cray goes to shoot in but to no avail, both men are now exchanging punches with one another, Reid is very light on his feet and catches Cray in the clinch throwing in some knees, both guys really wanting to win this fight.
Rnd 3 Both guys come out rather hesitant and not engaging at the beginning of this third and final round, but once they finally do Reid unleashes a flurry of shots onto Cray that seem to have no effect as Cray managed withstand the flurry, Cray is looking tired but has Reid against the cage again but Reid's takedown defense  was just too good for Cray.      Winner   via    Unanimous   Decision Tobias Reid 29-28.
72KG Unified Amateur MMA
Steve Lewis (Fighting Fit) Debut                                                          Stanno Foggin L D Fighters 1-0 Rnd 1 Both guys start off quick, both straight in there. Lewis lands a good leg kick followed up with a brutal body kick that saw Foggin double over in pain and referee Craig Rutherford called the fight off due to Foggin verbally tap. 0.57secs Rnd 1  Winner via TKO Steve Lewis.
77KG Unified Amateur MMA   (3x3mins)
Lawerence Tracey (Trojans) 1-0                                                   Ryan Legge (Tillery Combat) 3-1 Rnd 1  Tracey with the takedown, on top, Legge working hard from bottom, Tracey dishing out some GnP Tracey working hard to try and gain a submission, Legge constantly working off his back, listening well to his corner team who are constantly shouting out instructions to Legge to try and gain a submission but to no avail.
Rnd 2  Tracey gains a takedown, Legge working well and listening to his corner to try and gain a submission, Tracey doing work from top but its Legge that gets the triangle choke 2.47 Rnd 2 Winner via Triangle Choke Ryan Legge.
72KG K1 PRO (3x2min)
James Miles  (East West MT)  Debut                                            Terry  Doyle (Force MMA)  Debut Rnd 1 Both guys come out exchanging leg kicks; you can hear the bone crunching exchange, you know they mean business, Miles briefly gaining in the clinch and unleashed his knees, Doyle pushes out of clinch and lands a clean punch that ends in a KO 0.25 secs Rnd 1.  Winner via KO Terry Doyle.
77KG MMA PRO  (3x5min)
Will Wride  (Trojan)  5-1                                                                   Shane Riley (Brotherhood) 2-2 Rnd 1 Full out action from the off, Wride gains position on top against the cage, Riley has Wride's head, he escapes; Wride using some GnP and elbows, Riley working well from bottom looking to gain a submission after having a near miss with an armbar attempt earlier, Wride  in top position dishing out elbows and GnP.
Rnd 2  Wride comes in with a hard right leg kick, Riley on back working well, landing a left right combo, Wride still in top position, Riley manages to get it back to standing, both guys exchange punches, Riley gets the takedown but not for long as their quickly back to standing again, Riley adds in a few foot stomps at the end of the 2nd round.
Rnd 3 Both come out exchanging blows Wride gets the takedown, then gets Riley back and tries to flatten him out all the while still managing to dish out punishment, Riley manages to avoid being submitted, Wride now in top position, Riley on his back, Wride  trying to finish by GnP but Riley  working really well off his back and defending well it, goes to the Judge's score cards. Winner via split Decision  Will Wride.
70KG PRO MMA (3x5min)
Mario Saeed  (Trojan)  5-1                                                                Wayne Drake (Fury MMA)  2-1 Rnd 1  Saeed comes straight out and gets straight to work, he slams Drake, Saeed had Drake worried early on when he had caught him in an armbar but to Saeed's surprise he managed to get out of it, next Saeed captures Drake's head and arm for a head/arm choke, he stayed in this position for what seemed a very long time before he finally escapes; Saeed working from top position then decides to slam Drake again, back to top and working GnP, a great back and forth round.
Rnd 2  Saeed shoots straight in for a takedown, landing vicious blows, both fighters manage to get back to their feet, Drake gets the takedown, Drake is landing shots and elbows trying to gain a submission, Drake on top but not having saeed in any kind of trouble, awesome display of technical grappling going on, again a very back and forth round.
Rnd 3 Drake is straight in and got the takedown, but it don't stay there, this is a battle of the grappling, Drake manages to briefly to get on Saeeds back but Saeed shrugs him off, this is an awesome battle of who really wants it more, no one is willing to budge, it has gone to the judge's decision Winner via Unanimous  Decision  Mario Rudeboy Saeed .                                
As usual Dan Richards and Paul Sutherland were accommodating as ever, the fights lived up to all the hype, even the MC Darren Rees did an impressive job. Awesome event as ever and I look forward to #UIC10 on November 16th  in Cheltenham.
Ultimate Impact Fight Night 1 – Results
Mario Saeed Defeats Wayne Drake via unanimous decision
Will Wride defeats Shane Riley via SplitDecision
Terry Doyle Defeats James Miles via KO 0.25secs Rnd 1
Ryan Legge defeats Lawerence Tracey 2.47 Rnd 2 via Triangle Choke
Steve Lewis defeats Stano Foggin via Referee stoppage (Body Kick) 0.57 secs Rnd 1
Tobais Reid defeats Dai Craig via unanimous decision 29-28
Euan Wallace defeats Matthew Harris via Guillotine 1.09 Rnd 1
Steve Connelly defeats Mitch Stevens via RNC 0.34 secs Rnd 1
Ed Modds defeats James Taylor via Ref Stoppage 1.08 Rnd 1
Laura Handy Defeats Asha Patel by Unanimous Decision 29-28
Josh Ozanne defeated Neil Harper via TKO 15 secs Rnd 1
Jamie Richardson defeats Ben Phillips standing RNC 1.13 Rnd 1
Sammy Donnelly defeats Zowie Trevena via unanimous decision 29-28
Mack Stevens Defeats Brenn Rudd via Ref Stoppage GnP 2.26 Rnd 1