UFC on FOX 10 takes places this Saturday and will be headlined by Benson Henderson vs Josh Thomson. The card features a few fighters in the early days of their respective UFC careers. Sergio Pettis would be the more well known of them but I've decided to  focus on one of the heavyweights kicking off the card.
Last November while watching The Ultimate Fighter 18 finale I noticed that there was a heavyweight fight featuring two UFC newcomers. I like watching new heavyweights come into the UFC, that division seems to be open enough that would allow anyone to come in and break the top ten in a few fights. I remember Shane Carwin making his debut and the crowd was empty, three fights later he won the interim title.
The two fighters, Jared Rosholt (9-1) and Walt Harris (6-2), put on a great display and both showed great promise in their own way. Now if you remember that fight you will know that Rosholt got the decision win, if you don't remember that fight and you just read the last sentence you are probably thinking "why Walt Harris?"
Well allow me to  answer that question. Harris, in defeat, showed so much talent. Coming from a college basketball background he has the athleticism and reach. He reminds me so much of Jon Jones with his build and stature but the difference is that he has this explosiveness with strikes such that all of his wins have come via first round KO's.
We saw his talent in the first round against Rosholt where he landed some bombs and dropped the NCAA champion wrestler. Had he been fighting anyone else other that Rosholt he probably would have won in the first but his cardio let him down and when your cardio goes against a wrestler you better believe he will put you on your back and that is what happened.
I believe that loss will serve Harris better in the long term and should give him the motivation to improve in order to reach his maximum potential that could lead him towards the top of the division.
His opponent however is 21-year-old Nikita Krylov (15-3), a very dangerous fighter from the Ukraine who has won all his fights via stoppages (10 submissions & 5 TKO's). Krylov also lost his UFC debut so there is a lot at stake for both fighters in this one. I am excited for this one and you should be too.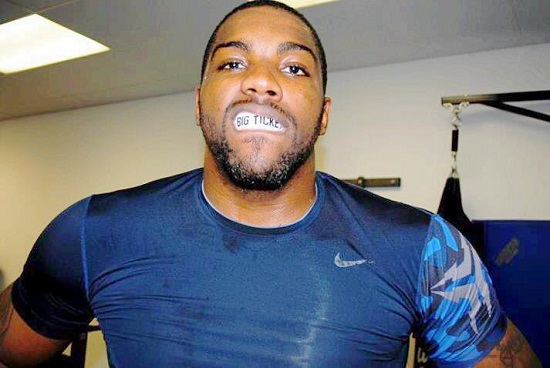 You can follow Walt Harris on twitter @thebigticket205.