Undefeated grappler Tony Martin enters the UFC after winning 8 straight professional fights. The 24-year-old just celebrated two years as a professional fighter earlier this month.
Fighting out of the GetSum Fight Team in Minnesota he also spends some time in the renowned American Top Team in Florida so you can bet he has trained with some of the best fighters in the world there.
Standing at 6ft 1in he is an incredibly big lightweight and has used a mixture of his size, speed and power to help him win six from eight fights via submission, with the other two via decision.
Martin's most notable win to date is that over former UFC fighter and current Bellator fighter Phillipe Nover. However he has some good wins over previously undefeated prospects and MMA journeymen.
Below you will see a dominant display churned in by Martin;
It will be a stern test for Martin in his UFC debut this Saturday as he faces 29-year-old Russian fighter Rashid Magomedov (15-1) a M-1 Challenge veteran who is also making his UFC debut on the back of a 8 fight win streak.
This a typical striker vs. grappler fighter here and an interesting fight fact is that Martin's has never been KO'd while Magomedov has never been submitted. It might not be a fight on most fans 'must-see' list but it has major implications on both fighters respective careers going forward.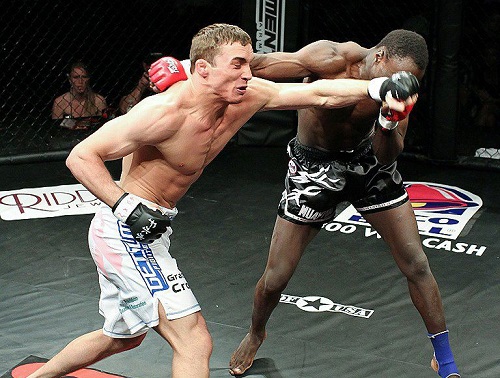 Photo Credits: Fight To Finish Photography (above) & CFX Promotion (top)