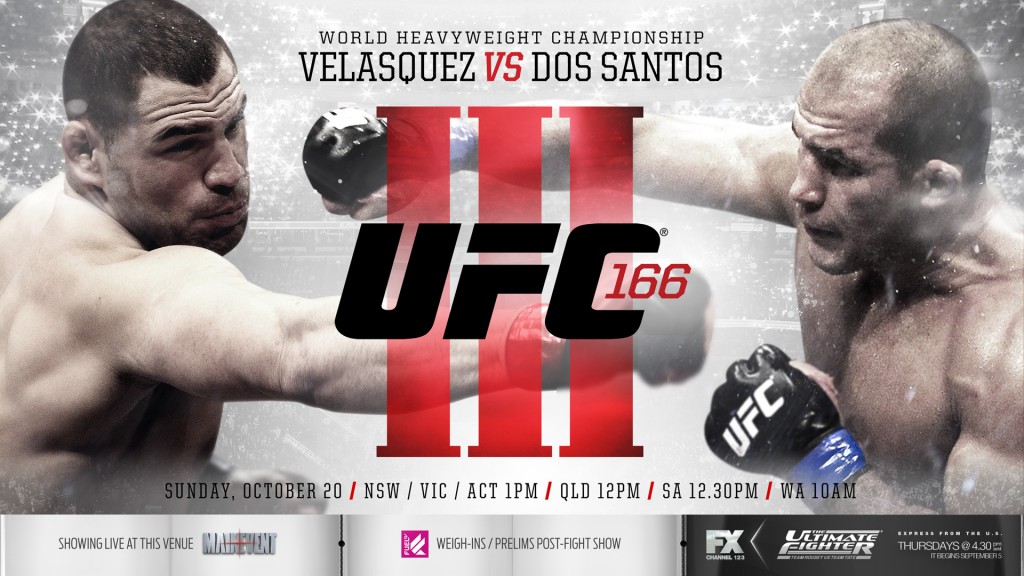 This Saturday night MMA fans are in for a treat. The Ultimate Fighting Championship holds their latest pay-per-view offering – UFC 167: Velasquez vs. Dos Santos 3. The event stands as the UFC's final PPV before their historic 20th anniversary show in November – UFC 167: St. Pierre vs. Hendricks. It may not have the 20th anniversary tag attached to it, but Saturday night's card is equally interesting with the title of the "Baddest Man on the Planet" up for grabs. This makes the predictions all-the-more intriguing.
Cain Velasquez vs. Junior Dos Santos – UFC Heavyweight Championship
Will this be the greatest trilogy in the history of the UFC? Difficult to say; but for me, if the fight plays out how I think it will then it will fall short of that honour. I believe that the fight will play out in the same fashion that the second fight did. If that turns out to be the case, people will have a hard time arguing that the first fight was anything but a lucky punch.
Putting aside the injuries from the first fight; the overtraining revelations from the second fight; and everything else in between – what we are left with is the concrete evidence. The evidence is that Dos Santos has the punching power to knock Velasquez out, and Velasquez has the skills and cardio to beat up Dos Santos for five rounds.
It must be mentioned that their second fight was just ten months ago. That's not a lot of time for either man to reinvent themselves or improve in such a way that they're completely different fighters. Dos Santos last fight was against PRIDE and K1 veteran – Mark Hunt. He looked good don't get me wrong, but he didn't blow me away. He beat Hunt, something that we all expected. He finished him with a spectacular kick, an impressive achievement against a tough guy in Hunt. But he didn't do anything throughout the fight that made me think he could beat Velasquez, if Velasquez implemented a similar game plan to their second bout.
I'm leaning towards Velasquez based on what we saw in their second outing – and also what we saw against Antonio "Bigfoot" Silva in Velasquez's last defence of the UFC gold. This is assuming his game plan mirrors the one he implemented in their second contest, for the most part. However, I think that Cain would love to finish "Cigano" this time around following Junior's statements about Cain "hitting like a girl". I could see Cain getting a late stoppage due to strikes in the later rounds.
Prediction: Cain Velasquez via fifth round TKO.
Daniel Cormier vs. Roy Nelson
Cormier stated that he would like to win this fight and then join his American Kickboxing Academy teammates at cage-side to corner Cain Velasquez. Ideally, he would make short work of "Big Country". However, that's easier said than done. Roy Nelson isn't just known for the big belly and giant beard; he is also known for being one of the most durable fighters in the promotion – and a skilled one at that.
That being said, I'm still picking Cormier to get the decision victory. If you look at what each fighter brings to the cage, the odds should favour Cormier heavily. Cormier is faster, stronger and more athletic; he is a better wrestler (he is an Olympic competitor, of course); he has a bigger gas-tank (although the extent of this has yet to be tested) and he arguably has better boxing.
However, Nelson has the potential x-factor with his ability to knock heavyweights out with one punch. If he can land one big punch we could see the upset, but it' not an outcome I can bank on. I would also favour Nelson in a straight jiu-jitsu contest, but he does his best work on top and it's highly unlikely he will find himself in that position.
Prediction: Daniel Cormier via decision.
Gilbert Melendez vs. Diego Sanchez
Our sport can be strange sometimes. In Melendez and Sanchez we have two fighters coming off controversial decisions. On another night and with a different batch of judges, Melendez might have got the decision over Benson Henderson and clinched the lightweight strap. Similarly, Sanchez could have lost the decision to Takanori Gomi and be riding a two-fight losing streak.
Stylistically this has the potential to be a mouth-watering affair. Sanchez will pile the pressure on Melendez right from the start, in classic Sanchez style. This is one of the reasons Sanchez won some of the close fights that have been deemed controversial; the Gomi and Kampmann fights to be exact. He is always moving forward. However, I believe that Melendez has the better striking and wrestling to avoid being out-pointed by Sanchez.
Melendez's technique with his hands is crisper at this stage of their careers. Diego can get wild with his striking and this will play right into the hands of "El Nino". I can see Melendez lighting up Sanchez on the feet and defending the takedowns, if not I see him winning the scrambles and getting back up to his feet. Melendez should have enough to beat "The Dream" in a potential fight of the night.
Prediction: Melendez via decision.
Gabriel Gonzaga vs. Shawn Jordan
If you have seen Gabriel Gonzaga during interviews over the past few, you have seen something glorious. He has been wearing an incredible moustache over the past few days; this must make you want him to win – it's magnificent. But that aside, he certainly has a tricky task ahead of him this Saturday night in Shawn Jordan.
This is one of the tougher fights to predict. Jordan has the youth, the speed and the athleticism. While Gonzaga has more experience and the superior grappling game that has made him one of the better submission artists in the division. Considering we're talking about heavyweights, it goes without saying that they both have power in their strikes. However, Gonzaga's chin worries me.
Gonzaga has been finished by knockout on six occasions, although he has fought against some of the best fighters in the division over the years. That being said, I think that Jordan will be able to land a big punch a drop Gonzaga. Jordan isn't a world-beater, but he is one of the more athletic heavyweights in the promotion and I can see his speed being a problem for Gonzaga. Jordan must avoid being dragged to the ground though.
Prediction: Shawn Jordan via first round TKO.
John Dodson vs. Darrell Montague
John Dodson has been given a tough task; to welcome Darrell Montague to the UFC. It's a tough task for a number of reasons. Firstly, Montague is talented and has been touted as the best flyweight outside of the UFC since the organization welcomed the 125'ers to the promotion. Secondly, Dodson is coming off an impressive showing in his loss to the champion Demetrious Johnson and he expected to win this fight handily – as far as the casual audience is concerned. However, the audience who are more in tune with the happenings outside of the UFC know how problematic this fight could be for Dodson.
Montague is dangerous when he can find his range against his opponent. His straight punches and knees are devastating; however, this is where I believe he will have problems. I predict that Dodson will be too quick and attack from such awkward angles that he will prevent Montague from finding his range. Montague can do some good work from the top position on the ground, but Dodson is incredibly difficult to get a hold of. They both have power in their strikes also; nevertheless, a decision is what I forecast. This is another potential fight of the night.
Prediction: John Dodson via decision.
Preliminary Card Predictions:
Boetsch > Holloway
Marquardt < Lombard Kaufman > Eye
Sotiropoulos < Noons Waldburger > Amagov
Ferguson > Rio
Larsen < Fili Pague < Horiguchi