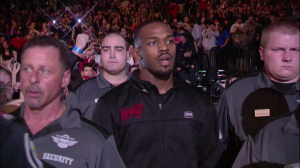 A week following the Mayweather and Saul Alvarez pay-per-view blockbuster, the UFC makes its return to Toronto with its effort – UFC 165: Jones vs. Gustafsson. With Jon Jones defending his Light Heavyweight strap against Alexander Gustafsson and Renan Barao set to defend his interim Bantamweight crown against Eddie Wineland, it's a good excuse to grab a couple of beers and relax. Can The Swede take UFC gold back to Europe? These are Robert Pallin's predictions for the night ahead. 
Jon Jones vs. Alexander Gustafsson – UFC Light Heavyweight Championship
Ever since Jonny "Bones" Jones put an incredible beat-down on Mauricio "Shogun" Rua to capture UFC gold; everybody and their mothers have been speculating which fighter will be the man to overthrow the pound-for-pound king. It wasn't Jackson, Machida, Evans, Belfort, or even "The American Gangster" himself, Chael P. Sonnen – and unfortunately for Alexander Gustafsson, I don't think it will be him either.
The angle that the UFC are taking in the promotion for this fight is the reach and size of Gustafsson. He is more gifted in these areas that all, if not all, of Jones' previous opponents – that's undeniable. But having that reach, which still falls short to Jones' monstrous 84 inches, doesn't necessarily mean that much if he doesn't manage distance as proficiently as Jones. Jones is the master at controlling the distance, mostly with his kicks. Gustafsson could have some success with his boxing.
Another huge factor coming into the bout is the grappling. It's an area which Gustafsson has eagerly improved over the last number of years. Following his loss to NCAA standout Phil Davis, "The Mauler" travelled to Alliance MMA to train with Davis to specifically improve upon his wrestling and grappling. However, even with dramatic improvements in his grappling, he is still significantly outclassed by the champion in that department. Remember, Jones is a fighter who made Chael Sonnen – a decorated colligate wrestler – look like he never wrestled a day in his life.  Jones' top game is too dangerous for Alexander to withstand.
Pick: Jon Jones (via. stoppage due to strikes)
Renan Barao vs. Eddie Wineland – UFC Interim Bantamweight Championship
It's a shame; a lot of people underestimate Eddie Wineland. He is the original WEC Bantamweight Champion. He has been fighting the best competition in the bantamweight division for years; highlighted by last two losses, which came at the hands of Team Alpha Male notables, Uriah Faber and Joseph Benavidez. Nevertheless, I'm picking Renan Barao. Not because I'm underestimating Wineland – but because Barao is good, really good.
The only scenario where I can envisage Wineland taking the interim belt is if he can turn the contest into a boxing match. Wineland has some of the best hands in the bantamweight division. If he can make Barao stand in front of him in the pocket, he could have a much better chance of outscoring the Brazilian and even get the stoppage – but that's an unlikely scenario.
You don't accumulate a 30-fight-unbeaten-streak by playing your opponents game. Barao has demonstrated this on a number of occasions; he takes the fight where his opponent is weakest. I think it will be more of the same for the champion. He will set up his takedowns with his striking, and from there he will work his grappling from the top position. Wineland does have a wrestling background, and he's no novice on the ground, but assuming Barao can get the takedown he should be able to grapple his way to a decision. A finish isn't out of the question, though.
Pick: Renan Barao (via. decision)
Brendan Schaub vs. Matt Mitrione 
This is a difficult one. There are two scenarios that are swimming around my head. Matt Mitrione avoids the takedown and the clinch then touches Schaub chin, or Brendan Schaub gets the takedown and rides out a decision. I'm leaning toward the first scenario, but not wholeheartedly.
It's cool to say that Schaub has a weak chin nowadays, unfortunately for him. It's difficult to debate it; he has been knocked-out in each of his three professional losses. However, fighting heavyweights with a ton of knockout power can't help. But the fact that he has been finished by strikes three times still looms over him, and I think that Mitrione might be able to test that chin once again.
Pick: Matt Mitrione (via. knockout)
Costa Philippou vs. Francis Carmont
This is very similar fight to the heavyweight bout mentioned above. It's a tale of two stories; Costa Philippou keeps it standing and wins a striking battle, or Carmont gets it to the ground and smothers Philippou. Unlike the other fight, I heavily favour the one scenario; Philippou defending Carmont's takedown attempts, then battering him on the feet.
Coming off two wins, which probably should have been losses, "Limitless" Carmont won't want to stand and exchange with former boxer, Philippou. The Cypriot, Philippou, has had problems against grapplers in past fights, but in recent outings he has shown vast improvements in his takedown defence against the likes of Tim Boetsch and Court McGee. Considering Carmont's lacklustre performances, even in victory, I can only see Philippou picking up the victory. Avoiding the judges would be a wise choice for The Cypriot.
Pick: Costa Philippou (via. stoppage due to strikes)
Pat Healy vs. Khabib Nurmagomedov
I love this fight – but damn, it's a tough fight to pick. Khabib Nurmagomedov is currently riding a 20 fight win streak. The Russian has dominated most, if not all, of his opponents by utilising his elite sambo and judo. This is why the "The Eagle" has so much hype behind him. But then you have Pat Healy; the veteran, and often-times the hype-train killer. He derailed numerous hype-trains during a 46-fight tenure in the sport. In 2011, there was a ton of people who believed Venezuelan prospect, Maximo Blanco, would clean the floor with Healy. That wasn't the case. Healy submitted Blanco in the second round.
This could go either way. Healy was riding high after the biggest win of his career over Jim Miller, a win which was eradicated from his record due to testing positive for marijuana metabolites. But he will be high on confidence. As will Nurmagomedov. This tough, but I'm going to go with the Russian to grab a close decision by out-positioning Healy, in a fight that might be one to remember – for fans of the art of grappling, at least.
Pick: Khabib Nurmagomedov (via. decision)
Preliminary picks:
Jury over Ricci
Menjivar over Reis
Thompson over Clements
Kimura over Gagnon
Makdessi over Forte
Ronson over Prazeres
Caceres over Delorme
Omielanczuk over Guelmino