I don't know about you, but I'm a documentary guy. I've watched tons of documentaries ranging from outlandish subject matter — like David Ike rambling on about lizard-people (I don't necessarily recommend that one) — to potentially provocative pieces like everything that Michael Moore has made. However, it's sports documentaries that really tickle my fancy, and in particular it's of the MMA flavour. It's the nostalgia, the competition, the grittiness, and the dedication of the subjects that captures my imagination, you can live stream UFC  after you have read my top five.
#1 – The Smashing Machine: The Life and Times of Extreme Fighter Mark Kerr
This shouldn't be hugely surprising for avid watchers of mixed martial arts documentaries. Released in 2002, this surprisingly personal HBO piece follows "The Smashing Machine" Mark Kerr through the highs and lows of early mixed martial arts competition, chronicling his addiction to drugs, his relationship with his then-girlfriend, and his bond with mixed martial artists Mark Coleman and Bas Rutten. It spans a huge part of his career and covers his early days in Vale Tudo, his successful stint in the UFC, and his transition to PRIDE FC where he became a star.
Director John Hyams does a wonderful job capturing Mark Kerr's personality. It depicts Kerr, not as a degenerate brawler, but a soft-spoken competitor. However, the film reminds us why he was known as The Smashing Machine inside the ring.
In essence it's the story about the rise and fall of a talented fighter, but it's much more than that and you don't have to be a mixed martial arts fan to appreciate it. However, you might find segments hard to watch if you are squeamish.
Kerr holds no punches. He strips his character down to its core and allows the director to capture it on camera – his vulnerabilities, blemishes, and failures are laid on the table along with his successes. It isn't often that such a strong character has the fortitude to expose his vulnerabilities like Mark Kerr does in this documentary.
#2 – Renzo Gracie: Legacy
The first of two Gracie documentaries that made it onto the list is Renzo Gracie: Legacy. Just like The Smashing Machine, this documentary vividly profiles the career of a legendary mixed martial artist – in this case Renzo Gracie.
"Legacy" narrates the Brazilian Jiu Jitsu master's extraordinary life. It details his legendary family, the family responsible for the art of Brazilian Jiu Jitsu and the UFC, and gives the viewer an insight into the fine-details of being a mixed martial artist. However, it's his career in fighting that the documentary highlights as its centerpiece.
It's the scope of the documentary that makes this story so extraordinary. The film follows Renzo while the sport was growing at an unstoppable pace. From the most primitive of contests to more contemporary bouts we expect to see today, we witness the growth of a world class BJJ player coming into his own under mixed martial arts rules.
The documentary isn't short of legendary stories either. In one of the more personal moments, Renzo speaks about his father, Robson. Robson suffered torture during the military junta in Brazil, only to escape death due to political connections of one of his students.
#3 – Rickson Gracie: Choke
"Rickson Gracie: Choke" is often cited as catalyst for mixed martial arts documentaries. It was the first of its kind, and it opened the flood gates for masterpieces like the aforementioned "The Smashing Machine" and "Renzo Gracie: Legacy".
Filmed in 1995, it didn't reach audiences until 1999 – but when it finally did it blew us away. The film plays like an event, but with all the drama of the pre-fight preparations, the family dynamics (not just any family, the Gracie family), and the camaraderie between competitors. The event in question was an eight-man Vale Tudo tournament with no weight classes and a cash prize of $60,000 – and it's that event that the acts as the backdrop for the story.
However, the training phase takes up a large chuck of the documentary also, and is one of the more interesting portions of it. It doesn't just follow Gracie's preparations, but it puts us into the training room with some of the other competitors. Like Todd "Hollywood" Hays, a former football player with aspirations to be an Olympic bobsled entry, is one of these.
The film also introduces Helio Gracie to a widespread audience for the very first time. Helio He was 86 years old at the time of filming but his vigour and passion for the gentle art of Jiu Jitsu is nothing short of inspiring.
#4 – Fighting for a Generation: 20 Years of the UFC
Released on the 20 year anniversary of UFC 1, "Fighting for a Generation: 20 Years of the UFC" is a retrospective look at the UFC's expansion from its controversial beginnings into the global entity it has become today. Unlike the aforementioned documentaries, the subject isn't showcasing a fighter. The subject is the company as a whole and the main players involved in the successes and failures.
There's always a fear when a documentary is produced under supervision of its subject. Being a FOX Sport vehicle, and with the UFC's strong ties with FOX, I feared that it would be nothing but 90 minutes of propaganda – and although it strongly promoted the UFC, of course, it did address key moments in the company that I feared it wouldn't.
One of the coolest aspects of the documentary is the range of people they interviewed and highlighted. This included the major players in the early UFC years – like Art Davie, Rorion Gracie, and Royce Gracie.
Whether you experienced the "dark ages" first hand, an era in the company – circa 1996 – when the UFC was banned from cable, or whether you became a fan last week, this is a must watch.
#5 – Like Water
No, it's not a Bruce Lee documentary. It is, however, a documentary about another celebrated martial artist: Anderson Silva.
"Like Water" is a riveting documentary, which follows then-UFC middleweight champion Anderson Silva into his 7th title defense against Chael Sonnen in 2010. If you are one of the few people who haven't seen this fight, I won't ruin it, and lucky you. It will make your viewing experience of this documentary even greater.
Unlike "The Smashing Machine" and "Renzo Gracie: Legacy", this documentary follows a fighter at the tip-top of the game. Don't get me wrong, Renzo Gracie is a legend of MMA and BJJ, and Mark Kerr was a top-contender at one point – but Anderson Silva was the very best at the time. Ordinary folk like us don't get to experience such a great talent in such an intimate way, and "Like Water" gives us that opportunity.
However, that's where I ran into problems with this film. It's a fantastic watch, and it's very interesting – especially for hardcore fans – to see the events leading up to such a memorable fight, but I had hopes that it would pick Anderson's brain a tad more.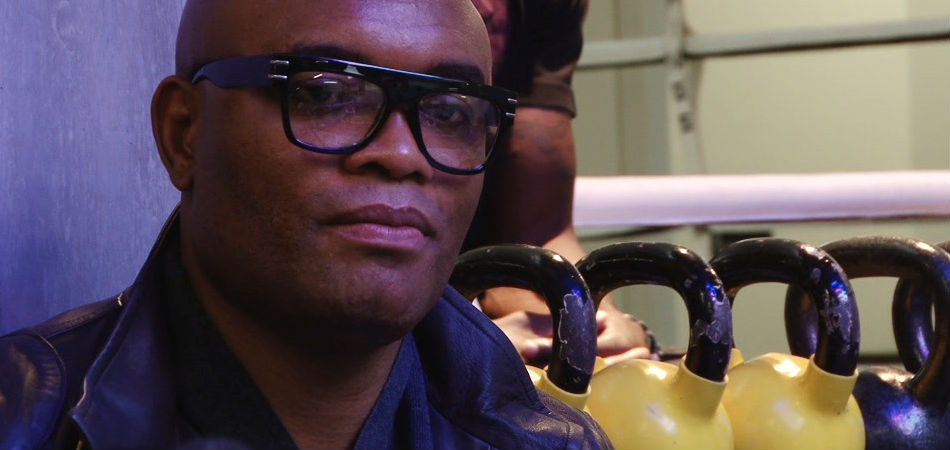 Anderson has always been an enigma. His unusual interviews and remarks have confused but at the same time intrigued mixed martial arts fans for years, and I thought this would be a chance to get to know Anderson a lot more. Nevertheless, it's a fantastic watch.
Robert Pallin is the host of Obviously Fight Talk podcast on radiomade.ie. Found also on iTunes & Stitcher. You can also check them out on Facebook and Twitter.
You may also like: