'The American Psycho' Stephan Bonnar was a fighter universally loved by one and all in the MMA world. This was due to his performances in the cage and his personality out of it. One of is biggest fans was UFC president Dana White, their relationship is pretty much the blueprint to how fans feel about him: a monumental fight won fans over, his personality kept them and a few wrong decisions threatens to lose them.
The Beginning
We first saw Stephan Bonnar on the first season of TUF. It was here he was brought in from the local scene and introduced to a national and international audience. Coming into the house he was 27-year-old, 7-1 prospect who dreamed of quitting his day job to become a fulltime MMA fighter. From those humble beginnings he was immediately thrown into the spotlight. Getting to the finale of the first TUF season he faced off against Forrest Griffin in what was the become "the most important fight in UFC history".
The pair fought a razor thin, back and forth, brawling fight had even those at home getting short of breath with excitement. As it will go down in MMA folklore that fight saved the UFC as, according to Dana White, people were literally ringing their friends to tell them to tune in right as the fight was happening. Although he lost the fight he still received a UFC contract and instantly became a fan favourite.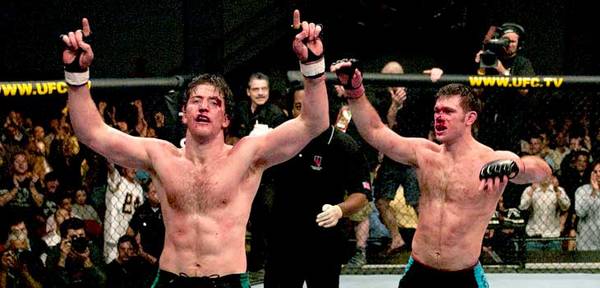 Post-TUF
Bonnar bounced back from the loss with three straight victories against Sam Hoger, James Irvin and Keith Jardine. It seemed the UFC's investment in him was paying off. He then lost his next fight against Rashad Evans, a young rookie at the time, but didn't lose much in terms of fan interest. Bonnar was still at that level of being 'new to the UFC' so a loss didn't hinder his career too much in that regard, it was still heading in the same direction.
First Mistake
After the loss to Evans the UFC booked a much hyped and anticipated rematch between Griffin and Bonnar. Only 15 months had passed since their first meeting but still the fans wanted to see it. Griffin had just suffered his first UFC defeat at the hands of Tito Ortiz, a name that'll be synonymous in the downfall of Bonnar later.
The second fight didn't quite match the excitement of that of the first one. Forrest once again won by decision and there was an air of disappointment after this fight. This disappointment was soon to get worse after it was revealed Bonnar failed the post-fight drug test for a type of anabolic steroid. But hey, it was 2006 and the UFC/MMA wasn't quite the 'legitimate sport' that it is today. He got fined, given a 9 month suspension but was quickly forgiven by fans and the UFC.
Stagnant Run
Between the years of 2007 and 2011 Bonnar's career stayed at the same level. He was the guy that acted as a gate keeper but served to bolster a card that lacked excitement. Everyone enjoyed watching him fight. During those years he went 5-3 facing the likes of Jon Jones, Mark Coleman, Krzysztof Soszynski (twice), Kyle Kingsbury and more.
A win over Kingsbury at the end of 2011 meant he now had a three-fight-win-streak and seemed content to drift out into retirement on the back end of a decent run. He and Griffin did however unsuccessfully campaign to coach TUF opposite one another and after that it seemed Bonnar was retired for good, that was until October 2012.
Anderson Silva fight
Silva and Bonnar agreed to step-in to fill the massive void that was left after the main event of UFC 153 got scrapped due to injuries. It was a fight that didn't make sense but in some crazy way most seemed to enjoy the prospect of seeing two fan favourites going head to head, Silva with his skillset and Bonnar with his size and toughness. Silva got the win after a knee to the body crippled Bonnar.
The fight is famous for two things: 1. Anderson Silva's matrix like reactions and 2. Bonnar once again failing a post-fight drug test, which "really hurt" Dana White. Despite the loss Bonnar was still favourite amongst fans, very few expected him to win and people just enjoyed the ride of the whole build-up and event but the second drug failure left a bad taste in everyone's mouth. MMA in 2012 was an entirely different landscape to that of 2006 so a drug test failure was looked at different. Another fine and ban was handed to Bonnar.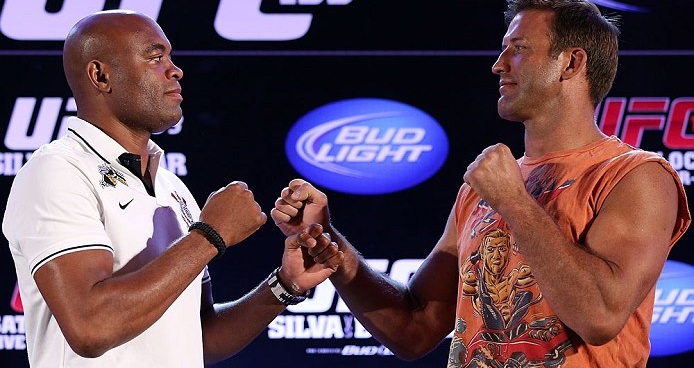 Hall of Fame
How people felt about Bonnar after the drug failure was still evident in 2013 when the fighter, alongside Forrest Griffin, was inducted into the UFC Half of Fame for the contribution to the UFC stemming from their 2005 TUF Finale fight.
What should have been a celebration was clearly a room splitter. Many felt Bonnar didn't warrant the honours of being inducted into the Hall of Fame after having a mediocre fighting career and having two failed drug tests to his name.
The Fall
They say 'time heels all wounds' and that would've probably been the case for Bonnar had he slipped back into a commentator role for an organisation and stay on in the UFC as an ambassador. He still had the nice guy, friendly image and remained a great personality in MMA. Redemption from fans was visible, that was until last month.
In August it was announced that Bonnar would be coming out of retirement and signed a multi-fight deal with Bellator. His first assignment would be against fellow UFC Hall of Famer Tito Ortiz. I was thinking to myself at the time that this could be a fun throwback fight between two fighters at a similar level. But then they go and do a pro-wrestling style segment at Bellator 123 a couple of weeks ago and practically ruin the whole thing.
What started out as a fun fight turned into a circus that makes it hard to regard the bout as a legitimate sporting contest between two, supposedly, icons of the sport. I will still want to watch it but the personal enjoyment buzz around it is ruined and long gone.
It is unfortunate we see Stephan Bonnar fall from his pedestal so much. From being an exciting fan favourite to being seen as a 'has been' widely across the internet. Let us hope he redeems himself with a couple of good performances that finally closes the door on his fighting career and saves face amongst fans, media, and peers alike.