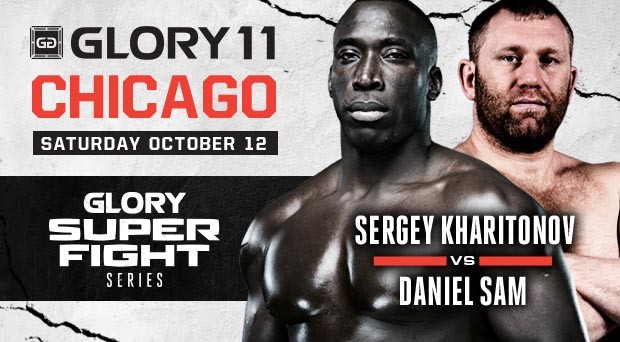 Unless you've been living under a rock for the past six months, surely you're aware of the major moves Glory has been making in the States. Glory's conquest of the Americas began with its Road to Glory tournament showcasing the talents of Dustin Jacoby, Brian Collette, Joe Schilling, Randy Blake, Xavier Vigney and others.  Other standouts in the tournament included  Eddie Walker, Mike Lemaire, Francis Ambang, Brett Hlavacek, Kengo Shimizu and at featherweight Masaaki Noiri. 
In June, Glory followed up with more explosive action in New York with GLORY 9. With this event, Glory rocked the Hammerstein Ballroom with the likes of Daniel Ghita who defeated Brice Guidon in a superfight and a tourmanent that brought the likes of Tyrone Spong, Danyo Ilunga, Filip Verlindin, Dustin Jacoby, Michael Duut, Steve McKinnon, Brian Collette and Mourad Bouzidi center stage.  In what has been called a controversial finish, Tyrone Spong was the tournament victor.  In another superfight, Rico Verhoeven took on and defeated Errol "Bonecrusher" Zimmerman and Canada's Joseph Valtellini defeated Francois Ambang. 
The show didn't stop here though.  On September 28th the express Glory train pulled into Ontario, California with its middleweight tournament and crowning of Joe Schilling as tournament victor. GLORY 10 also brought to American soil the raw and fierce talent of Robin van Roosmalen as he took on and defeated Shemsi Beqiri in the card's main event.  Co-headling the show was the battle between Murthel Groenhart and Davit Kiria in which Kiria walked away victorious.  Other outstanding battles on the GLORY 10 stage include the domination of Albert Kraus by Ky Hollenbeck, Andy Ristie's defeat of Niclas Larsen and Brian Collette's win over fellow American, Randy Blake. 
Just when you thought Glory couldn't produce a better show, enter GLORY 11 in Chicago on October 12th! The crown jewel of this card is a four man heavyweight tournament featuring Daniel Ghita, Gokhan Saki, Rico Verhoeven and Anderson "Braddock" Silva.  Also appearing on the GLORY 11 stage are superfights between Danyo Ilunga and Michael Duut,  as well as a match-up between the UK's Daniel Sam and Sergei Kharitonov.  A tournament reserve bout between Errol Zimmerman and Hesdy Gerges is also scheduled for this event.  The event's headliner pits Tyrone Spong against Nathan Corbett.  For a full listing of bouts on the GLORY 11 be sure to visit their website at gloryworldseries.com.  And stay tuned for more fireworks as Glory returns to New York on Saturday, November 23rd with yet another stacked card and a lightweight tournament featuring fan favorite Giorgio Petrosyan as well as Robin van Roosmalen, Davit Kiria and Andy Ristie