As the dulcet tones of Bruce Buffer announced to the world:
"Aaannddd New UFC Welterweight Champion of the World, Johny 'Big Rigg' Hendricks!!"
Day 1 of a post-Georges St-Pierre welterweight division had begun.
After years of unchallenged dominance from St-Pierre, the 170lbs division had started to grow stale and with St-Pierre opting to vacate the belt after his disputed final title defence against Hendricks, the UFC were quick to act in booking a fight that would not only crown a new champ, but also reinvigorate the weight class.
Step forward Johny Hendricks and Robbie Lawler.
Both men had forged reputations as heavy-handed strikers through a long list of opponents that had been separated from their senses, and their match-up seemed like an ideal way to generate excitement and kick off this new era. And so it proved.
For the first two rounds of their fight, Hendricks was the aggressor and handily took both of the opening frames through a diverse array of strikes that we were not aware Hendricks possessed.
Despite starting out his MMA career as somewhat of a grinder, thanks to his enviable amateur wrestling career, Hendricks had started to be seen as a knockout artist in recent years as a result of his big left hand. However, the perception before this fight was that Hendricks was all about the one-punch rather than the varied attack and forceful combos he had begun to string together. Hendricks was showing that he did not just improve between his recent failed title challenge and this fight, Hendricks was displaying true evolution as a mixed martial artist.
As we entered the third round, the tide turned. Lawler began landing, having never left the pocket of which he fought this entire fight in, and Hendricks slowed down just enough for his opponent to start taking advantage of. Midway through the third, and in the midst of one of the many close quarter exchanges that these two became involved in, Lawler wobbled Hendricks and continued to pepper away at Hendricks up until the end of the bell.
The fourth followed a familiar pattern, but this time with Hendricks visibly marked on his right eye and with the blood streaming down Hendricks right-hand side, Lawler continued to boss the striking and shrug off the increasing number of takedown attempts from Hendricks, save for one at the death of the round.
We are all too familiar with the threat Lawler poses on the feet, but it was his underrated defensive wrestling game that was the most remarkable aspect of his performance last night. Hendricks is a highly decorated collegiate wrestler that has had very little trouble taking down his opponents at his discretion, but struggled against the wily Lawler.
With both men knowing that they were even going in to the last five minutes, they knew what was required. Hendricks and Lawler continued to strike with Hendricks taking the initiative; however this one was still balanced on a knife-edge.
That was until Hendricks secured a takedown and the title in the process with just a minute left in the round.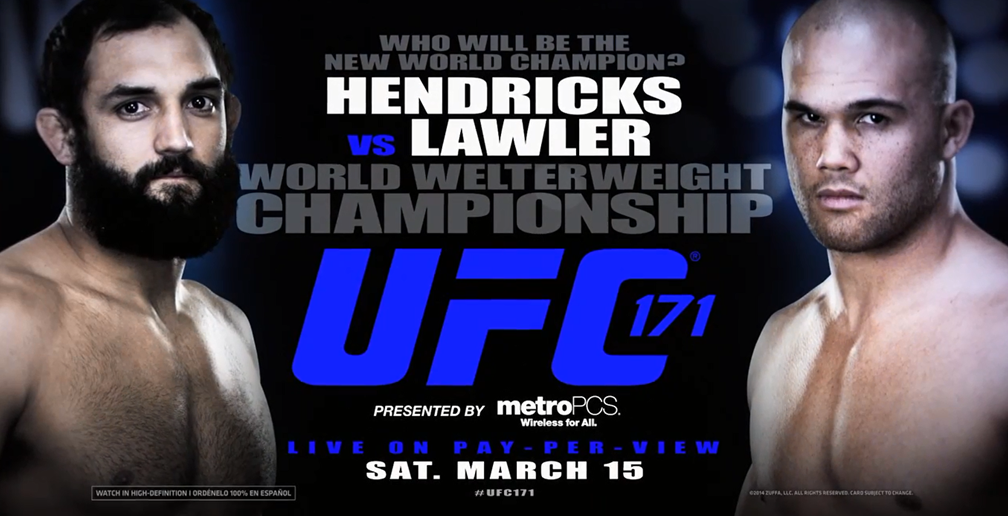 With Lawler exhausted by this point and unable to prevent being dragged to the mat, the look he shot to camera as Hendricks controlled him was one of the more sobering moments I have seen in MMA for some time. This was Lawler accepting the grim realities of defeat, knowing that his chance at the gold was gone; and it was.
Hendricks claimed the unanimous decision, with all three judges scoring the fight 48-47 in the Texan's favour.
Having now crowned a new champion, the logical question to ask is who's next?
It is likely that the co-main event of UFC 171 decided the next, with Tyron Woodley cutting through Carlos Condit like a buzzsaw. Yes, the fight was ended due to Condit's blown knee, but the only reason it endured such damage was due to a Woodley takedown and then a thudding leg kick that buckled Condit in to submission. Prior to the ever so slightly anti-climactic ending, Woodley looked fantastic. Rushing in with booming right hands and explosive takedowns, this looked like a man who was in a hurry to get to the belt.
While there are still reservations over his conditioning; Woodley's speed, athleticism, explosiveness and new-found knockout power, it would be hard to count him out in any fight in this new 170lbs division.
But the list of potential challengers does not stop there either, oh no. We have Hector Lombard, who also triumphed at UFC 171 with a decision victory over Jake Shields; and let's not forget Rory MacDonald either. Now that GSP no longer reigns atop of the mountain, his training partner MacDonald has a clear run to the title, free from any potential problematic scenarios.
Oh, and Nick Diaz confirmed he is back last night, so there's always that. Despite being on a losing run, Diaz remains one of the sport's most polarizing figures and would undoubtedly be the biggest draw in a GSP-less welterweight division.
GSP's reign defined by a 'batten down the hatches approach', but with the former champ away from the action for just one night, the door was firmly blown off its hinges with a whole host of potential
challengers emerging, as well as a new champ.
Welcome to a new age.