Swayze Valentine is MMA's newest face to grace the scene, a 28 year old 'Cut-Woman' in the biggest promotion in combat sports, the UFC,  and the first ever female in this field to be employed by them. Although you may only now just be seeing Swayze Valentine on your screens for the first time for the promotion she  holds a great pedigree in her CV even before being approached by the leading promotion. Swayze has worked with promotions such as Invicta, Bellator, WSOF, MMA Explosion, King of the Cage along with amateur MMA and Muay Thai promotions including, 1 Kick Nicks, Tuff N Uff, Battle at the Bay and Rumble on the Ridge to name just a few.
A determined individual Swayze Valentine's hard work and dedication has started to pay off, recently letting the whole world know about herself, her struggle with acceptance but more importantly, what Swayze Valentine has achieved thus far and and will keep on achieving.
I managed to catch up with Swayze just after she had finished her second UFC duties at UFC 171, with UFC 170 being Swayze's first introduction to the UFC, soon Swayze will be off packing for her next assignment within the organization for May 10th in Cincinnati Ohio when Brown vs Silva comes to town for UFC Fight Night. However, before all of that I spoke with Swayze about her childhood, growing up in Alaska, finding love for MMA and being a female in a male dominated sports profession.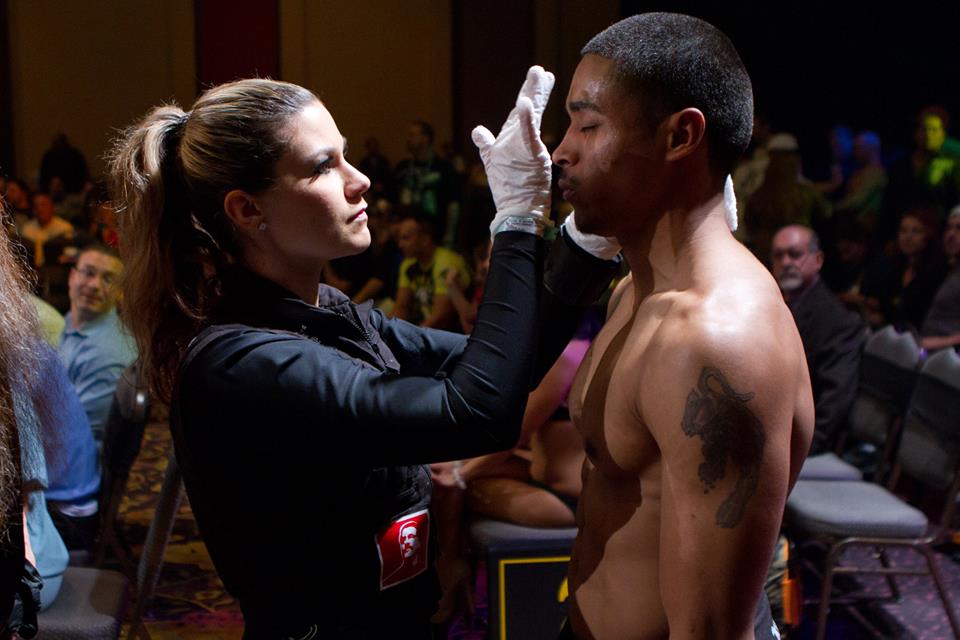 GROWING UP
EB. You have an awesome name and I have to ask what may appear to be an obvious question to some, was your mum a Patrick Swayze fan? If not can, you tell me how your name came about.
SV. Thank you so much! My name did not come about being a Patrick Swayze Fan, although, he would have been an awesome story of how I got my name! My mom really liked the name Swayze for a girl. As for my surname, it is my Maiden name. My full legal name is Swayze Michelle-Nicole Valentine.
EB. Where was you born and raised?
SV. I was born in Anchorage, Alaska.
EB. Your Mother and Father, travelled a lot for their job – (Dunkin Donuts if I recall) How was it travelling around for you?
SV. I loved travelling around. I never had many friends and I did not care to need any. Since my family and I moved around so much, I was naturally closest to my family and was happy just being with my Mom, Dad and Brother.
EB. Did you get any benefits of your parent's job like free donuts? If so, do you still love donuts or not so much now?
SV. Oh yes! My brother and I were able to help make the donuts every morning and we also got to experiment and make our own creations. I remember spending early mornings and late nights there. I loved it. Still to this day, when I smell donuts, it brings me back memories to that time with my family. I would love to eat a donut everyday if I could!
EB. Can you tell me about your childhood and growing up?
SV. My childhood was great! My family and I are very close. We moved around a lot, which I actually enjoyed. I liked moving to new places and meeting new people. I would "work" with my parents and brother at the Dunkin Donuts restaurant that my parents ran. They ran Dunkin Donuts all over the US and the best part was getting to make donuts every day! Oh, I loved it! Laughs, I still do to this day, love donuts!
EB. Were you what everyone would class as a 'typical girl', into 'girl' things or were you more of a 'tomboy' whilst growing up?
SV. I definitely went through a "Girly" stage and a "Tomboy" stage. I loved all the girly things. I had a lot of Barbie's and dolls. I never could have enough dolls. I also loved kids so much I would pretend to be a mother to everything! As for my tomboy stage, it was only my brother and I growing up and he is older, so I wanted to be cool like him, I would dress in his clothes and hang out with his friends. I thought I was cool every time I got to hang out with them. No matter how much I tried to play with him and his crew, they still left me out, so I quickly got out of that stage and went back to playing with my dolls and Barbie's.
EB. Moving around a lot as a child from city to city, do you think that gave you a good understanding of independence at an early age (having to make new friends/relationships) to go for what you really wanted to do in life.
SV. I really do think it gave me independence. Even though I was around my family all the time, I was raised in customer service where I learned a lot and was exposed to all kinds of people and traits. My family has always worked hard our whole lives. I get great work ethic from my parents.
EB. Around what age did you leave home and start to make a life for yourself?
SV. I left home after I got married at the age of 19.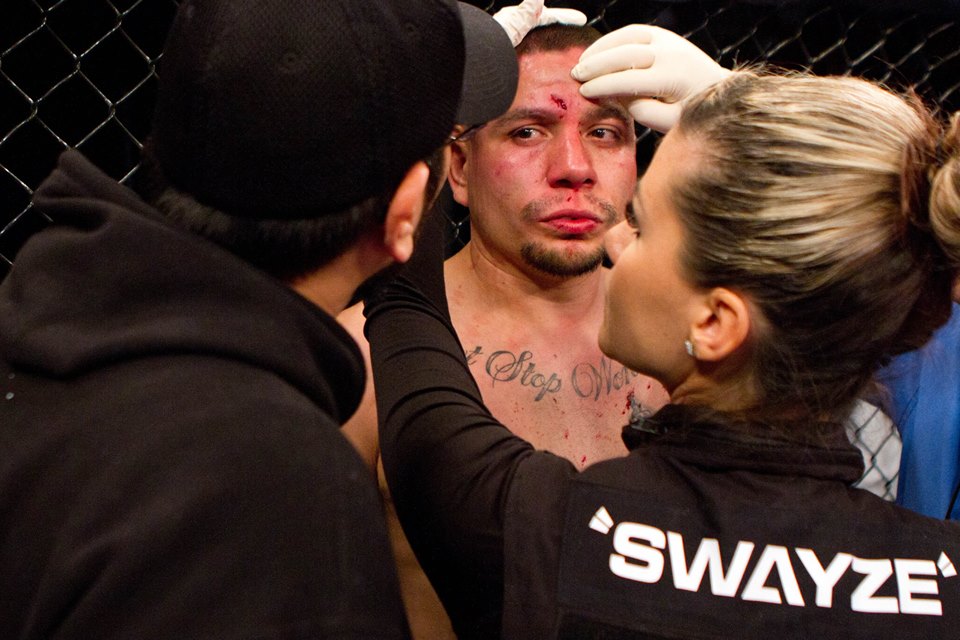 HOW IT ALL BEGAN – THE FEMALE LIFE OF A BEING A CUT WOMAN
EB. How did your interest in the world of combat sports begin?
SV. My interest started when I saw my first live show. I loved the atmosphere and the sport. Once the show was over, I went to talk to the promoter about what positions there were in MMA that I could do if I did not want to fight. He looked at me and told me that if I wanted to be a part of his show I could be a ring girl. I accepted the offer so I could at least be a part of the scene and see if there was anything else in the industry that I may like better. On fight day, I was walking out of my dressing room to the cage and saw coaches or "People" wrapping the fighter's hands… I knew right then, that was what I wanted to do. There is no greater honour, than to wrap the hands of these warriors!
EB. What was it about the sport that drew you into it? Had you seen the sport on TV? On the other hand, was it after your first live event that drew you into the sport?
SV. I had watched UFC on TV before and liked the sport, but never knew how much I loved the sport, until I got the chance to experience it live. I was addicted immediately after my first live event.
EB. I heard you had an 'experience' as a ring girl what was that like.
SV. My experience being a ring girl was just that… An experience! It was not terrible and I do not look down on any women who are ring girls, but I knew that was not the job for me.
EB. It was at that show you saw something amazing, something that took your breath away, something you said to yourself that you would like to do. Can you explain in more detail what this was?
SV. I saw people wrapping the fighter's hands. I knew at that moment, that was what I wanted to do. It just hit me like a rush… I know that can sound dramatic or silly, but honestly, I felt it chose me. I later found out that the people that were taking care of the fighter's in the cage, were 'Cutmen'. There is no better 'Job' then taking care of fighters before, during and after their fight. It takes so much trust, from the fighter's point of view, to put their career in my hands. Literally, there is no greater honour!
EB. How did you go about making a move into this unheard of trade for women?
SV. I just knew I wanted to be a Cutman. I did not care what I had to do to get it done. I contacted 'Stitch' (Jacob Duran), who is a legendary Cutman for the UFC, and asked him how to get started. He told me to go to gyms and wrap hands… lots of them! Therefore, I did just that! I immediately found a gym and started wrapping hands. I travelled to different gyms all over the US, not only so that I can learn the craft, but also to create professional working relationships with anyone I could in the industry. I later met, who would be my future mentor, Adrian 'Tenacity' Rosenbusch. (UFC Cutman) He taught me the 'Cut' side of the industry. I trained with him for 2 years. I never stopped travelling and working events. Every show I worked, I worked free. It did not matter, I was thrilled to be doing what I loved and was able to grow with the fighters and to do what I love. I never knew for sure if it would actually "Pay" off and move from a Hobby to a career. I just had a feeling, a deep feeling, to never give up no matter what.
EB. What year are we looking at, how long ago we talking about?
SV. It all began in 2006
EB. What did this long hard road consist of to get to where your journey is today?
SV. There were of course more good times than bad, but some of the bad times consisted of low acceptance of me. There were times people did not trust my abilities to be able to take care of the fighter's and keep them safe. A lot of the criticism came from coaches and corners; I clearly remember being denied entry into the cage by the cage door operator on one occasion.I have been sworn at in the cage by coaches and corners. Coaches did not want me to wrap their fighter's hands or grease them. I have not been allowed to work on some promotions. The worst was when I was physically assaulted in the cage by a coach.I am thankful for all the hard times; it helped toughen me up in this industry. I am also a very understanding person. I understand the coaches 'Protection' over their fighter. They have a very close bond with them. I also understood many of the petty things that went on a lot more.
EB. What kept you going through the tough times in your early days when it appeared that no-one wanted to give you a chance?
SV. I had this ridiculous drive inside me. There were times I wanted to quit. It got bad, but there was always this gut feeling, to keep going, so I did. It is almost unexplainable, if that makes sense!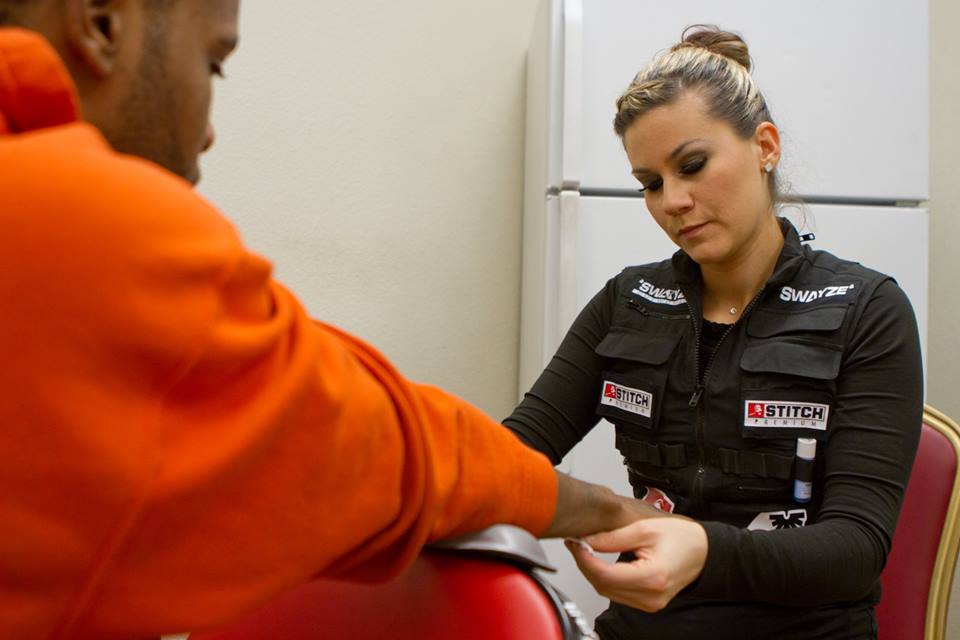 THE PRESENT
EB. Where is home for you now?
SV. I currently live in Washington State with my two precious little boys (4 and 6) they are my world.
EB. Can you tell me about how the whole UFC job came about? I heard you had to have a 'try-out' interview of some kind and had to keep everything a secret.
SV. I got the call for which I had been waiting for in January! I had been keeping it a secret for a few months. I was sitting in my living room playing with my son when my phone rang. I saw it was an out of state number so I let it go to Voicemail. I saw that they had left a message, so I checked it! It was the UFC! I was so excited. I kept it quiet. I wanted to tell the world, of course! Since it was my first show, I thought it was best to keep it to myself.
EB. You had your first UFC job on UFC 170, how was this for you?
SV. I was nervous all the way up to fight day. When I arrived in the arena, my nerves left and the excitement took over. I was in a familiar situation and it felt like home. I knew what I had to do and what my responsibilities were. I focused on taking care of business. The UFC were so supportive. Everything ran so smoothly, it was "A Dream Come True" in every meaning of the phrase!
EB. You, clearly, impressed everyone involved, as you were back for UFC 171. How surreal did this feel on such a fast turnaround?
SV. It felt amazing! Here I go, getting to live my dream again! There is no words that can explain how cool that was!
EB. You are the UFC's first female 'Cut Woman'. How do you feel about given this title?
SV. I feel great! I feel accomplished. Most importantly, I hope that I have inspired my children and others to follow their dreams, with hard work and dedication, you truly can achieve anything!
EB. At the end of the day, no matter how it is all dressed up and what title you are given, to you this is what you have trained to do, it is your job and you have been dedicated for the last seven years. How excited are you to have reached the heights of the UFC in those seven years?
SV. It is unreal. It is a privilege to work with fighters on the most famous stage in the world, and to work with a promotion, UFC, that shares the same value and importance of fighter safety, is incredible. I get to do what I love, and unfortunately, very few people get to do what they love. I feel so fortunate to have even known what it is what I wanted to do.
EB. What is next for Swayze Valentine? What else would you like to achieve?
SV. I am taking it one-step at a time. I will always come up with more goals. Right now, I am going to enjoy every moment, taking care of fighters. The journey is never over!
QUICK QUESTIONS
Favourite Car
Aston Martin DB9 and Aston Martin 117
Favourite Sound.
There is nothing sweeter than the laughter of a child
Favourite song you sing in the shower.
This week, it is Dark Horse by Katy Perry
Since your trade is a 'cut -woman' do you by second nature or habit just pack in your bag general medical kits that you would associate with your trade at all. Along with everyday things, us girls have in our bags.
I do travel with some medical supplies now! I will have Qwick-Aid and a standard first aid kit! You never know when you are going to need it!
You can keep up-to-date on which events Swayze will be at and follow her on Twitter under https://twitter.com/swayzecutgirl
Photo Credit:  Joe Piccirillo – Joe Pic Photography.com