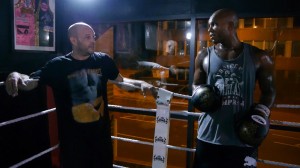 After a minor delay Linton 'The Swarm' Vassell will make his Bellator debut against Matt Jones on November the 8th. It will be three days after Bonfire night in the UK but one thing is for sure 'The Swarm' will be bringing fireworks when he steps into the cage.
MM: What caused the delay in your Bellator debut, and how have you been occupying your time?
LV: I'm not actually really sure, a mix up somewhere down the line but no drama. Since being signed I've just been training, training and more training.
MM: How do you split your time between your day job (Bricklayer) and preparation or does being signed to Wolfslair mean you are a full time fighter now?
LV: Finally I'm full time training now. Signing with Wolflair is what gave me the opportunity to go full time also my manager has arranged a sponsorship deal with Soulmate food.
MM: Since being signed Is there anyone on the Bellator roster you are particularly keen to get your hands on?
LV: Not fussed really, I'm there to win that world title so who ever has that title.
MM: Matt Jones will be your first opponent in Bellator tell me little about him.
LV: He is an all round fighter. I have seen him win fights standing and on the ground .
I'm happy where ever the fight ends up, I'm going to make a statement and show the LHW division that the Swarm is here.
MM: How do you see the fight between Mark Godbeer and Cheick Kongo going this Friday. Give me your prediction, break down the action for me.
LV: It's a great opportunity for Godbeer, but I don't see it going well for him, Kongo to win by KO or TKO
MM: Bellator have announced they want to put on shows over here in the UK how are those plans going are they involving you in those plans also do you feel you will have more of a hometown advantage when fighting in the UK.
LV: I would love for Bellator to put a UK show on and to represent the UK, I have not been asked yet but I will put my name down.
MM: What's your opinion on Bellator picking up those cut from the UFC. Is it a good thing or bad? Should they not be discovering their own talent.
LV: I don't see a problem one bit, most people that have come over to Bellator have either lost a few fights or their contract has run out, they need to go somewhere and why not to Bellator, big things are happening.
MM: What was your opinion of Fight Master and who do you think should coach the next season if they agree to continue the show?
LV: I like Fight Master it's giving people an opportunity to make a name for themselves and get noticed, I would like to see one of my friends Royce Gracie as one off the coaches
MM: What do you think of the rivalry between the UFC and Bellator in particular Tito Ortiz and Rampages comments recently?
LV: It dosn't look like they are going to be sending each other Christmas cards this year, Dana hates them and they hate him simple.
MM: Who do you think will be the next UK based fighter to make it into Bellator?
LV: Two of my team mates Josh Foster and Lucuz Klinger two up and coming fighters to look out for.
MM: Can you exclusively reveal what your walk out music will be on fight night?
LV: Yes, Sizzla featuring Capleton 'Jah Jah City'
MM: Anyone you would like to thank, now's your opportunity?
LV: I would like to give a shout out to my fiancé Laura who puts up with me training and cutting weight as I do get moody when hungry, my friends and family for all their support from when I first started to now, also my teammates from Wolflair, Immortal and BST, also my trainers Danny Batten, Lee Edwards, Darren Ward and Sam Tomlin. Finally to my great sponsors Soul Mate food, Impact, BioX Nutrition, The Warehouse MK and OT Sports Therapy.