"We Rolllllllin!!" – could have been heard for the very last time.
The UFC's 'babysitter to the stars' Burt Watson has been rumoured to have quit the promotion this past weekend.
Various media and informed MMA personnel have tweeted regarding the subject saying that there was a problem at the weigh-ins at UFC 184 this past Friday that forced the much-loved character to quit his position in the promotion.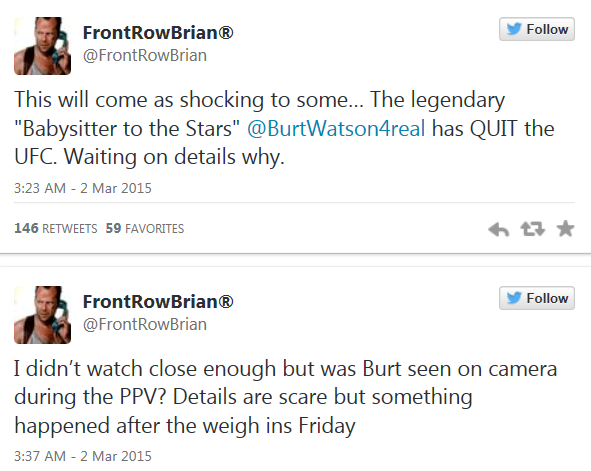 Journalist Ted Gruber also "confirmed" that Watson has left the UFC.

Alan's Angle: I expect more to come out on the story very soon. However, I do feel if Burt has a problem with the UFC that he has expressed it to them and wouldn't disclose what that was to the media. An organisation like the UFC, I speculate, would get its employee's to sign a non-disclosure agreement so even he wanted to speak he probably couldn't.
It is a sad day for MMA as Watson was one of those special one-of-a-kind characters in the sport. To me this is like the UFC losing Bruce Buffer or Joe Rogan as Watson was a cornerstone of the organization.