With BAMMA 24 taking place this Saturday night from the 3Arena in Dublin I thought I would highlight reasons to be excited. Between certain fights, fighter stories, and prospects there is a lot going on in this card that you should know about.
'The White Mike Tyson' Challenges for the Title
Many people will roll their eyes to the nickname like 'The White Mike Tyson' and I will lie if I said I wasn't one of them people. But then if you actually watch John Philips (18-6, 1 NC) fight you quickly find out the moniker is justified. In 18 wins the Welshman has scored an incredible 15 TKO/KO victories. Like the actual Mike Tyson, Philips began at an early age knocking people out. By the time he was 22 he wracked up 6 wins via stoppage.
Now at the age of 30 it seems like we are about to see the very best out of Philips. Already an eleven year veteran of the sport he has fought some of the toughest on the UK scene. His loses were only against tough opposition like Jim Wallhead, Tom Watson, Frank Trigg and Jesse Taylor.
Following his loss to Taylor he actually took two years out from the sport. Then a return last year saw him capture a one-night tourney to win £10k, winning all of his fights via, you guessed it, knockout. Now he returns to BAMMA for the first time since 2011 to challenge for the promotion's middleweight title against champ Cheick Kone (13-3).
This is far from being all Philips. Kone comes into this fight on a six-fight-win-streak and is an accomplished knockout artist himself with almost half of his wins coming via strikes. This includes two first round TKO's in his past two BAMMA fights.
New weight for Duquesnoy
At just 22-years-old and a record of 11-1 very few people in the sport of MMA today have received the widespread attention that Tom Duquesnoy has received. That attention is mainly an expectation and anticipation to see what the young Frenchman can do in the sport. It will be hard to find a 'Top Young Stars in MMA' list that doesn't have his name on it.
Already the BAMMA featherweight champ, this next fight signals his first fight at bantamweight. This might not seem important to most but a successful venture to 135lbs this time around could have a major effect on the career trajectory of the highly praised youngster. Proving that he can be victorious at two different weight classes against tough opposition will only add to his stock in the sport and will elevate him even more.
However his opponent Damien Rooney (10-4-1) will be looking to spoil the party and remind everyone who his is. The veteran Irish fighter has had rough couple of years and hasn't fought in over 15 months. No doubt his sees this fight as a fantastic opportunity to make up for lost time and win here over a fighter like Duquesnoy will immediately bump him up the ladder on the European MMA scene.
Philpott and his Title Quest
Can third time be a champ for young Alan Philpott (14-7)? This will be the Next Gen NI fighter's third straight opportunity to win BAMMA gold and therefore be the very first Irish MMA representative to be crowned a BAMMA champ.
In his first title fight he succumbed to a second round submission to Ed Arthur. He won the next fight beating Regis Sugden by split decision however he missed weight and therefore ruled himself out of being able to win the BAMMA Lonsdale title, and if to rub salt into the wounds BAMMA officials placed the strap around his waist forgetting his ineligibility. Now he faces Nathaniel Wood (8-2) in a fight that could literally go anywhere and is near impossible to predict.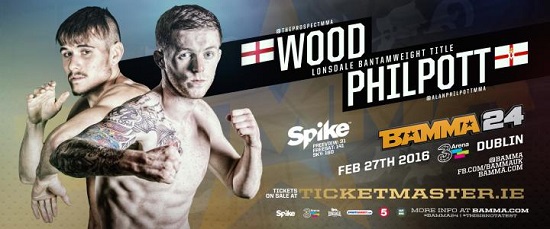 Ireland's next UFC star?
Many MMA media in Ireland have heaped praise on Peter Queally (7-2) tipping him as the next Irish fighter that will be snapped up by the UFC. With that sort of expectation comes a lot of pressure. This will be The Showstopper's tenth professional fight and the previous nine have all went the distance, clocking up an impressive 135 minutes cage time.
There is no doubt that Queally has talent and his record acts as a good base for a push towards the UFC. But this next fight will be integral for the SBG fighter. Anything less than a stoppage win for Queally here will be considered disappointing, unless it is an amazing 'FOTN' type fight. If he wins via decision once again he continues to build up his record but that all important stoppage win is still not there.
This talk of being signed by the UFC and also seeing the success of his teammates in the UFC might act as that catalyst for Queally to get over that little hump and actually get the finish. I'm excited for this fight and to see if Queally can reach his potential against a dangerous fighter like Nathan Jones (9-4) whose nine wins have all come via stoppage.
Irish Prospects
Five of Ireland's top MMA prospects are set to compete on Saturday night. Dylan Tuke (1-0), James Gallagher (2-0), Sinead Kavanagh (1-0) and Cian Cowley (0-0) of SBG and Rhys McKee (1-0) of Next Gen NI will all look to make a splash this Saturday night in Dublin's 3Arena.
Last September at BAMMA 22 Tuke, Kavanagh and McKee burst onto the scene in equally spectacular fashion to win their respective pro debuts. Tuke seemingly breezed past a very talented Adam Caffrey, Kavanagh blitzed her opponent with punches and McKee stepped up in weight on late notice to win his pro debut against Irish MMA veteran John Redmond. You couldn't write those three performances. Very rarely does a sequel live up to the original and the trio have set high bars for themselves but they are more than capable to live up to them.
Hoping to recreate something similar in his MMA debut is champion Muay Thai fighter Cian Cowley. Never have I saw an Irish fighter enter his debut with such buzz and hype surrounding him. Radio interviews, lots of media, corporate sponsorships and a large fan base are things most experienced professional fighters hope for but Cowley has this heading into his first MMA fight. He has earned it though after a tough Muay Thai career already put in. It will be interesting to see how he does in MMA. I can't imagine him staying at amateur too long.
James Gallagher was supposed to make his pro debut at the last BAMMA but a minor injury ruled him out. In the mean time his won his first two pro fights via first round submission and now will finally make his BAMMA debut. It might have been a blessing in disguise not competing last September, Gallagher has now fought twice as pro and went through jumping up from the amateur ranks and will now get the experience in a big arena on a top show. It seems like the perfect career arc for a fighter as he grows.
Return of Decky Dalton
When I first got into Irish MMA there was a name that almost universally everyone agreed that he could be the fighter to breakthrough that wall and sign for the UFC. That name was Decky Dalton. I never had the opportunity to see him fight but by that time he amassed a record of 5-0. He had been scheduled to fight a number of times since but unfortunately various injuries put them off and ultimately forced him to retire.
It has been almost four years since he competed, the Irish MMA landscape has changed drastically, Norman Parke and Conor McGregor turned out to be the fighters who knocked down that wall. And now Dalton returns hoping to achieve the things many thought he would. He faces Mike Cutting (6-4) this Saturday night in a tough fight. Cutting has fought seven times since Dalton last fought alternating between wins and losses.