The subject of this edition of #WHOATV's Prospect Watch is well known among fans of European mixed martial arts. He has been competing under the Cage Warriors banner since 2012. Cage Warriors has been one of Europe's most successful MMA promotions at producing elite-level talent. It's certainly a breeding ground for future stars, and the UFC has taken full advantage of their stable of fighters over the past number years – and they may have acquired another potential star with 27 year-old Jim "The Beast" Alers.
The American, Alers, is 12-1 in professional mixed martial arts competition and is currently riding an eight fight winning streak, with his last loss coming way back in 2010. It's his finish-rate that makes his record all the more impressive; it's currently sitting at 91.6%, excluding all the decimal places, but you get the idea. Originally from the city that never sleeps, New York, his opponents usually end the night sleeping. "The Beast" primarily uses his brown belt in Brazilian Jiu-Jitsu, to full effect, to strangle his adversaries into submission. Nine of his twelve wins have ended in submission.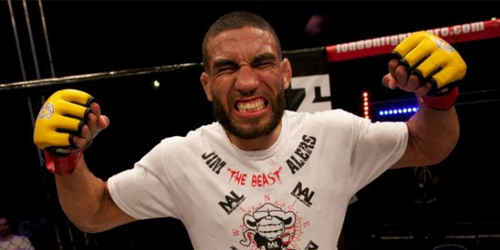 Prospects coming from Cage Warriors will always be compared with Conor McGregor; it's just going to happen. I won't compare them because they are two entirely different fighters. However, it should be noted that that fight would have happened if the UFC didn't pick up McGregor when they did. McGregor was the reigning Cage Warriors featherweight champion and Alers was next in line. It's a bout that European MMA fans were salivating at the mouth for. Alers spoke about his chances with Bloody Elbow.
"I think my style matched up perfectly with him. He likes to come forward, I come forward," he said. "I think that my takedowns are better than his defense. So I would take him down and it probably woulda been a wrap."
One wonders how the fight would've played out – but hey, we might get to see it in the big show.
After McGregor vacated the featherweight and lightweight straps, Alers and Joni Salovaara fought to crown the featherweight king. Alers finished the fight the fourth round with triangle choke/armbar combination in the fourth round.
His physicality is impressive, but his mental toughness isn't something to dismiss. Leading up to his second title defense against Graham Turner in December of 2013, which would be his last fight in the Cage Warriors promotion, he had a falling out with Alliance MMA (his then-fight-team). It was just one month prior the title fight and he was forced to disband from the team, leaving him with no team and a major headache leading into, arguably, the biggest fight of career. He won the bout in the second round with a slick north-south choke.
He now sharpens his steel at his own gym: Tough As Nails MMA.
WHAT TO LOOK OUT FOR
Chokes, they are Alers' bread and butter. In each of his nine submission victories he has used some form of choke to gain the stoppage. I know you're thinking it, "What about his triangle/armbar win?" I'm officially determining the tap came because of the choke. (I actually think it was the armbar, but don't tell anyone.)
Expect grappling. Sure, Alers has definitely improved his striking and it was evident in his fight with Graham Taylor. But he does his best work when he's tying his opponent up on the mat. Look for him to try and take Alan Omer's back and work for a choke.
In the clinch exchanges, look or Alers to get double under-hooks, or under-over, and hit a turning body-lock takedown. It's a beautiful technique that he uses frequently to land into side control.
WHEN TO SEE HIM NEXT
Watch Jim "The Beast" Alers take on Alan Omer in their UFC debuts on April 11th. The fight will be featured on the prelims, which will be streamed live on UFC Fight Pass.