Dana White, as confirmed by the UFC on FOX twitter account, has stated that rising megastar Conor McGregor will be next in line for a shot at champ Jose Aldo should he get past Dennis Siver in Boston on January 18th. It was also revealed that there is a good possibility that the fight will happen in a stadium in Ireland.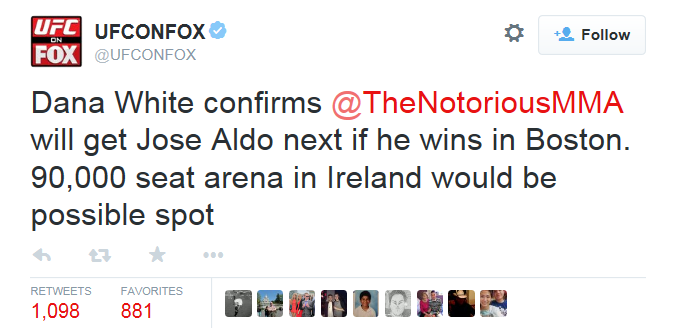 Alan's Angle: I have to take the fact that I am Irish away from this, personally this is the biggest and best news ever for Irish MMA but I don't think it is the right move. Sure it makes financial sense and this is a business so I can understand why this is being done but I feel that McGregor is being rushed into this due to his fame and popularity.
I actually think McGregor has all the tools to beat Aldo but I would have liked him to go into a championship fight off the back of beating Dennis Siver (no disrespect towards the German). The fight would be so much bigger had the Irishman beat the likes of Frankie Edgar or Chad Mendes or even, to a lesser degree, Cub Swanson.