Nick Diaz, who retired a little over a year ago, wants to return to the UFC, but his return depends on one condition: an immediate title shot. However, it seems the Stockton native's wish won't be granted according to Dana White.
Diaz hasn't fought since March of last year, when he challenged Georges St. Pierre for the title in Montreal, Canada. The five round shutout would mark the end of his MMA career according to Diaz himself. However, pundits and fans alike doubted it would be the end for Stockton bad-boy, and if he had it his way it wouldn't.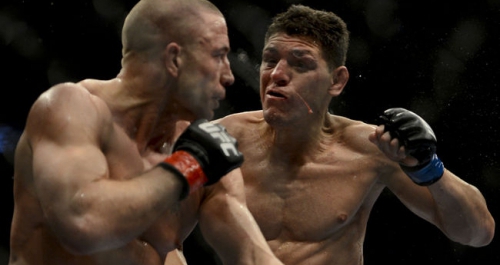 Speaking with FOX Sports, Diaz proclaimed that it would be title shot or nothing.
"I've been fighting for 11 years. I already did all those [contender] fights," he said. "I don't have to take a warmup fight. Why would I take a warmup fight? To help somebody out? To bring them to my level? I've already been through all that and you still didn't see me take an ass whipping."
It's unclear whether Diaz believes it, or he's playing hardball with the UFC, but it's unlikely that the UFC would give Diaz a title shot, considering he was on the losing end of decisions in his last two outings inside the cage. According to Diaz, however, it would be good for business if he was given the title shot. His fight with Georges St. Pierre did just under 1 million pay-per-view buys.
"Bottom line, I'm the only draw here. Bottom line," he said, in typical Diaz fashion. "We had like the third biggest [pay-per-view]. That wasn't just because of Georges St-Pierre. And these guys aren't doing that. People want to pay to see me fight, they want to see someone get knocked out or someone get tapped out, or they want to see me get my ass whooped like they've been waiting to see but they still don't get to see."
When questioned on Saturday about Diaz potentially receiving a shot at the welterweight strap, Dana White didn't sound overly enthused about it.
"It's not even worth talking about," White said. "He hasn't fought, he hasn't wanted a fight, he's not even in the conversation."