In a shocking yet exciting twist, the UFC last night officially announced that Nate Diaz (17-10), not his brother Nick Diaz, will take on Matt Brown (19-13) at welterweight at the massive UFC 189 card in Las Vegas this July.
This fight will mark the first time in over four years since Nate has fought at welterweight. He has went 1-2 (2-2 if you include a catchweight fight against Rory Markham) at that weight in the UFC with a win over Marcus Davis followed by back to back losses to Rory MacDonald and Dong Hyun Kim.
Following this unsuccessful run at welterweight he returned to the lightweight division where he wracked off three successive victories over Takanori Gomi, Donald Cerone and Jim Miller before challenging Benson Henderson for the title.
However, the 29-year-old has went 1-3 since then, including a loss to Benson in the aforementioned title fight. His only win since 2012 has come against Gray Maynard, a fighter who has lost his last four fights.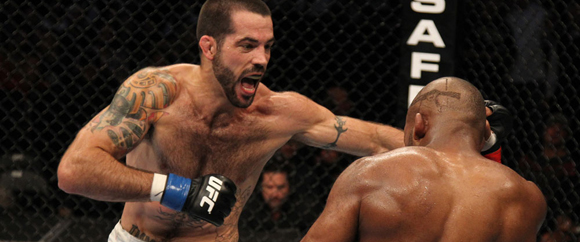 'The Immortal' Matt Brown is coming into this fight on a two-fight-skid dropping losses to Robbie Lawler and Johny Hendricks, both decisions. Before that the 34-year-old went on an absolute tear winning seven fights, 6 by TKO/KO, earning a number 'OTN' bonuses in the process.
As it stands the UFC 189 card is as follows:
Jose Aldo (c) vs. Conor McGregor – FW Title
Robbie Lawler (c) vs. Rory MacDonald – WW Title
Dennis Bermudez vs. Jeremy Stephens
Gunnar Nelson vs. John Hathaway
Brandon Thatch vs. John Howard
Mike Swick vs. Alex Garcia
Matt Brown vs. Nate Diaz
Alan's Angle: Love this fight. Doesn't make much sense in the grand scheme of things but I don't care. Both Nate and Matt always come to fight and that should result in some carnage. I don't think Nate will stand much of a chance as he hasn't looked himself lately but with not much of a weight cut one would expect a much more energetic performance from Nate.