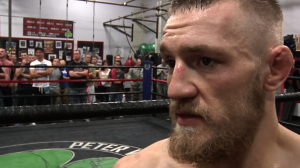 After building more excitement via Twitter with his trashing of numerous UFC athletes, it was revealed today that Conor McGregor will be out of action for 9-10 months. According to @foxsportslive, the bearer of bad news tweeted:
"BREAKING – @UFC's Conor McGregor's MRI results: complete ACL tear, MCL strain & posterior horn meniscal tear. Surgery needed, out 9-10 mos."
With that layoff in mind, on the one hand it fits the UFC's timeframe for a Dublin card as they planned to build an event  around the 4th quarter of next year.  On the other hand, as a Conor McGregor fan, this has come as very bad news.
No doubt his stock will continue to rise via his "tell it as I see it" tweet,s but there are also things that we think could keep him visible and very busy.
1. Brand Ambassador for Dethrone
Dethrone have recently acquired the Irishman to represent their brand, why not widen his role?
2. Mini documentaries
We are getting to know Conor MCgregor the athlete, but how about his interests away from the Octagon?
3. Voice over work
His dulcet tones are instantly recognisable, why not put them to good use?
4. Movie Role
Not necessarily a walk on part as he'll be resting up, but why not a role that involves no leg work.?
5. Podcast
The world according to Conor will be a fascinating insight into the world of a man who's not afraid to speak his mind.
One thing is for sure, there is no way that an injury will keep Dublin's poster boy from reaching new heights.