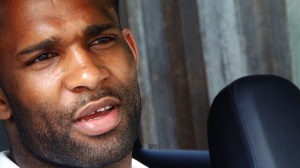 Fighters fight but some of the more astute combatants have focussed their tenacity for the win on the corporate world. One such mixed martial artist who has taken this route is knockout specialist and Croydon resident Jimi 'The Posterboy' Manuwa.
Having amassed an incredible winning streak that has continued since being signed to the UFC, Jimi Manuwa, not one to rest on his laurels, has shored up his financial defences by establishing several businesses away from the Octogon. Lions Pride his South London based gym, his nutrition company Warrior NRG and now Prestige Vision, a luxury car rental organisation are just a few of the companies in his growing portfolio.
Manuwa is due to return to the Octagon this Autumn at UFC MANCHESTER 2013: MACHIDA vs. MUNOZ where he will take on the Canadian Ryan Jimmo. Jimmo with only two defeats in his 20 fight professional career represents the biggest challenge in Manuwa's path so far, a win over Jimmo will almost certainly catapault the feared striker up the rankings.
In this, our first episode of Powermoves, which is a look at the lifestyles of mixed martial artists, we see that Manuwa has the same intense determination, passion and focus that he has in the Octagon when he turns his attention to his many businesses.
Tickets for UFC® MANCHESTER 2013: MACHIDA vs. MUNOZ  are available from www.ticketmaster.co.uk and www.phones4uarena.co.uk.