Top Polish and European MMA promotion KSW host their first event of the year this weekend and once again they bring you a nice mixture of top European talent with some international flair.
There may not be the 'big' names on the card that we are use to from KSW but this card, on paper, is one of the strongest from top to bottom. In the main event we will see a rubber match between Michal 'Magic' Materla (19-4) and American Jay 'Da Spyda Killa' Silva (9-8).
The pair first met at KSW 19 and Materla walked away with a majority decision. The ending to that fight warranted a rematch between the two and Silva shocked the world with a KO win last September at KSW 24 and snapping Materla's seven-fight-win-streak. Now the pair will settle the score in the rubber match and it will be for the KSW Middleweight Title.
The co-main event took a hit recently when former UFC champ Tim Sylvia was forced to withdraw last week citing an injury. This left the KSW brass scrambling to find a replacement fighter to take on the highly rated Karol Bedorf (10-2) and they found one in American journeyman Nick Rossborough (23-17). The 32-year-old is a one-time Strikeforce veteran and is trained by MMA legend Jeremy Horn which is evident in his 14 career submission victories. This should be a tough test for Bedorf, who many believe is on the cusp of joining the UFC.
Another heavyweight battle is also on the card as regular KSW fighter Marcin Rozalski (4-2) faces the toughest challenge of his career facing Nandor Guelmino (11-5-1) who is coming straight from back to back fights in Strikeforce, against Josh Barnett, and the UFC respectively. The big Austrian will be looking to get back to winning ways after seeing his seven-fight-win-streak snapped in those past two outings whereas Rozalski will be looking to build on his current tw0-fight-streak.
The next fight is one I would tip to be fight of the night as the undefeated and hotly tipped Anzor Azhiev (4-0, 1 NC) takes on the unpredictable Artur Sowinski (13-7, 2 NC). This fight was rescheduled after the two clashed heads early in the first round of the fight at KSW 24, that fight was ruled a no contest. Sowinski, despite being only 26, has consistently fought some of the top European talent and has held his own against most. The 23-year-old Azhiev has a lot of hype around him and will certainly have his hands full fighting the more-experienced Sowinski but it is a much needed test for the youngster.
Also on the card is former UFC fighter Goran Reljic (12-4) and he will face submission ace Karol Celinski (11-4). Reljic has went 4-1 since his UFC release and with time on his side the 29-year-old will be looking to keep putting wins together to get back onto a UFC card in the near future. It is also worth noting the Reljic has never been finished in his pro career with all loses coming by way of decision.
KSW 26 takes place this Saturday night from Warsaw, Poland. It is available internationally via PPV stream which you can buy right here or by clicking the picture below.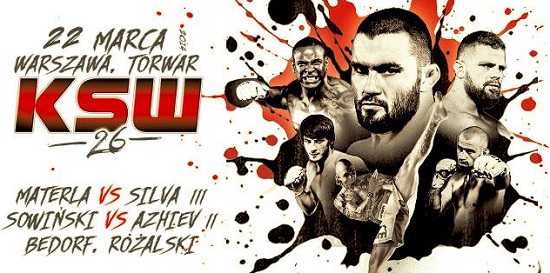 You can view the full card for KSW 26 here.