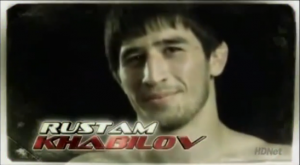 Welcome to the first edition of WHOA! TV's KO Wednesday and we bring to you possibly the most vicious suplex of them all as Russian fighter Rustam Khabilov manages to get a KO from a belly to belly suplex.
The setting;
The event was M-1 Challenge 18 in the Netherlands in 2009. Rustam Khabilov was an undefeated prospect, 5-0 at the time, making his second appearance in M-1 and was facing Akin Duran, who was 3-1 at the time. This fight proved to be the last one for Duran and not many people would argue with wanting to retire after being on the receiving end of a KO like that.
The KO;

Fast Forward;
Rustam Khabilov is now 17-1 and 3-0 in the UFC. He made his UFC debut in December 2012 with a similar style KO from a suplex and recently fought in a 'Fight of the Night' winning contest with Jorge Masvidal earlier this month at Fight for the Troops.
Expect a new KO every Wednesday!
Please like WHOA! TV on facebook and follow us on Twitter @WHOATV.