Jason Jones lets out a deep growl and an occasional kiss of his teeth as he snarls down the phone. The Dutchman is not happy. His victory over the once unbeaten Max 'Power' Nunes is a vague distant memory. Now he has a new focus for his attention, Anthony 'Rumble' Johnson.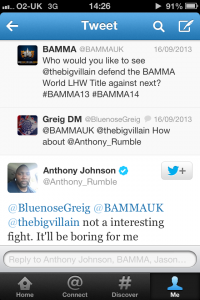 A few weeks back a young fan had innocently asked Johnson if he would consider a bout with the new BAMMA light heavyweight champion, Johnson's reply was firm but resolutely fair. Ultimately it was not something that interested the UFC vet, and in his opinion the fight would be 'boring' for him. Johnson is not one to mince his words but likewise nor is Jason Jones.
His caustic tone is uncompromising as he recounts the tale of how this 'disrespect' came to his attention. "So this washed up, overweight, donut face fighter named Anthony 'Fumble' Johnson sparks my attention by coming on Twitter making comments." Jones in typically raw fashion switches the conversation as though he is speaking directly to Johnson, "Listen bwoy, Fumble, by acting like you are some war general this is heavily misplaced, so let me break it down for ya bwoy. You are a one dimensional fighter and the thing is you suck at it! So I don't know where the fuck you come off talking about a well skilled and well rounded fighter like myself. So go eat a burger whilst you can 'cause when I see you, my fists will be dunkin on that donut face of yours on sight!'
It's pretty clear very early into the conversation that Jones feels a certain amount of arrogance in Johnson's tweet as he continues the Walter White deep and threatening tone. It's a tone heard before which he used when describing how he would dismantle Max Nunes. "Fumble, you've disrespected a true warrior! Your bitch ass is on my list now bwoy and yes you will get bored of being dominated and humilated by yours truly 'The Villain' and possibly hinting at Johnson's apprehension in facing him coming off an emphatic win Jones concludes: "Go figure why you are not interested."
It's evident that Jones, apart from being personally affronted by Johnson's comments wants to leave no doubt in his mind that whilst he may not have an interest in fighting Jones, Jason certainly has no qualms in stepping up to the plate to defend his newly acquired strap as he boldly asserts, "When everything is said and done and you're onto the next bold Tweet don't think that I'm letting you off the hook. You done fucked up, so listen, come to BAMMA, you can have a shot at my light heavyweight belt. Winner takes all."
As if that bold statement needed a qualifier he concludes by throwing down yet another gaunlet "How about we include both fighter payments? So this means that the loser which I see being you, will do this for nothing just like when you let motherfuckers  cut weight for nothing."
Whether or not Johnson rises to the challenge remains to be seen, one thing is for certain Jones is on the war path and is definately living up to his reputation and nickname of being 'The Villain'.