Joseph Duffy (10-1), the man more famously known as 'the guy who last beat both Conor McGregor and Norman Parke' makes his return to MMA this Saturday in Dublin at Cage Warriors 70.
His last outing ended in heart-breaking fashion, an injury suffered during the bout lead to a loss to Ivan Musardo at Cage Warriors 44 in October, 2011. After that fight Duffy turned his attention to boxing where he went 7-0 against relative journeymen in the sport, a normal procedure for boxers who show promise entering the pro-scene.
Now with his attention turned back to MMA something clicked in my head. I am a massive movie fan and Duffy's situation reminded me of two movies of similar names: 'The Great White Hope' and 'The Great White Hype'. Both are boxing movies so there is the baseline connection with Duffy, however it is their theme that bares a striking resemblance to Duffy and his return to the spotlight in MMA.
'The Great White Hope' was a fictional movie, originally a play, starring James Earl Jones that was loosely based around the life of real-life boxing champ Jack Johnson. Now while I don't want to delve too far into the theme's of the movie, mostly racial prejudice, the term 'The Great White Hope' was the searching of a white boxer to dethrone the black champ. It is this searching of a fighter that immediately made a connection in my head.
Duffy was arguably the first posterboy of the Boylan-era Cage Warriors and now that the second, Conor McGregor, is long gone the promotion has been seeking that next 'star'. Now don't get me wrong, Cage Warriors has an array of top fighters and countless have unsurprisingly been snapped up by the UFC, a trend I expect to continue for a long time. But just like the UFC the promotion seeks that 'face' to help promote and push the company. Duffy has the potential to be that 'face' once again.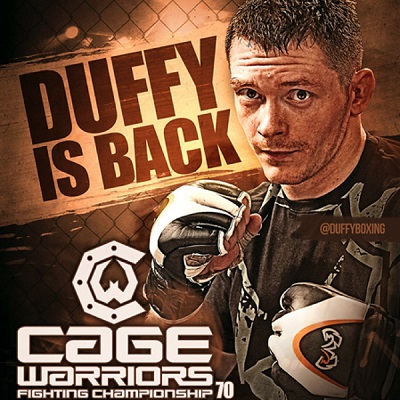 Now onto 'The Great White Hype', a satirical-comedy about boxing starring Samuel L. Jackson, Peter Berg and Damon Wayans. In this movie the boxing champ, Wayans, has been ploughing through his opponents with ease. The box office and PPV buys are going down as no-one wants to spend money knowing the champ will win. The promoter, Jackson, then finds an opponent he can sell to the fans, a fighter who beat the champ at amateur level, Berg.
The challenger is built-up and given an immediate title shot based on his previous win over the champ. This almost mirrors the hype that is accumulating around Joseph Duffy. People that didn't follow the scene back in the day when Duffy was fighting are basing their expectations from the fact that he beat current UFC stars Conor McGregor and Norman Parke.
In-short I will say that Duffy has a lot of 'Hope' and 'Hype' heading into his return. No-one knows how this will all play out but we can look at the 26-year-old's path to get an idea of how the future might play-out. Duffy, during his eleven MMA fights, possessed very a dangerous grappling game, winning 7 from 10 by submission. Now that he has spent two and a half years boxing one can only assume that his striking has improved significantly. Assuming that, we now have a dangerous grappler with good hands. There will always be 'hope' about a promising fighting making his return as there will be 'hype' but one thing I'll say is – I believe the hype.