Cage Warriors featherweight champion Jim Alers has signed with The Ultimate Fighting Championship, and will debut against fellow-debutant Alan Omer at UFC Fight Night: Abu Dhabi in April.
Jim Alers (12-1 MMA, 0-0 UFC) is undefeated in the Cage Warriors promotion and last defended his featherweight title against Graham Turner in Dublin on New Years Eve. It was the ninth submission victory of the American's career, and it was expected that he would sign with one of the big three promotions in North America(UFC, Bellator, WSOF) soon after, and it's the UFC that has acquired his talents.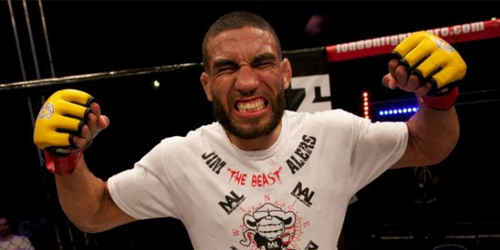 Cage Warriors has proven to be a rich training ground for aspiring UFC fighters; former Cage Warriors champions include Michael Bisping and Conor McGregor.
Aler's opponent, Alan Omer (18-3 MMA, 0-0 UFC) is currently riding a four-fight win streak and will look upset the American. The Iraqi fighter only has two decision victories in his 18 wins, the coming by the way of submission of knockout.
(Photo: cagewarriors.com)