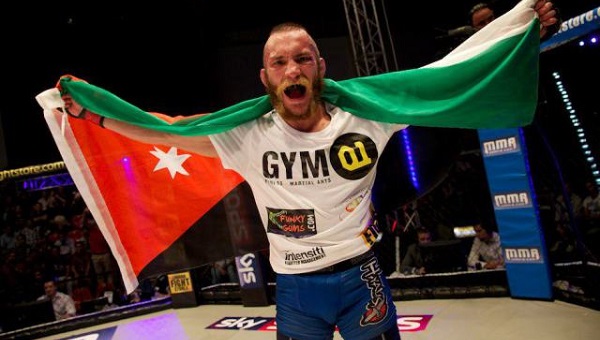 James "Job Done" Brum (13-2) has emerged as one of, not only the UK's but, Europe's top Bantamweights. Currently riding a seven-fight win streak and undefeated in Cage Warriors, the 26-year-old has certainly thrown his name in the mix for UFC contention.
WHOA! TV's Alan Murphy recently caught up with James:
Hi James, thank you for joining us. You are fresh off another win, your 7th in a row now (and 6th in CW). How did it feel to finally get the finish?
I set out to finish Abilitarov and that is exactly what I did! I was looking to work my hands and end with a highlight real knock out but was real happy with how I controlled him and executed the submission on the ground. During my training camp my team mates and coaches alike could see how eager I was for the finish. The key thing in this fight was not to be over zealous. My coaches told me don't search for the finish in this fight, it will come. The best sensation was finally feeling 100% again. In my last 2 fights I pulled out the wins but felt a shadow of myself due to illness and food poisoning. I finally felt superhuman entering the cage again.
Did it feel a little odd getting an early night for a change?
People have been joking with me about the distance and the duration we had to travel for such a short fight. To which my reply is it would have been a far longer journey home if I had lost.
Did you do anything different or mix things up in training ahead of your fight at CW 58?
Everyone wants to be a fighter but no one wants to put in the hard ass work! Those that are not successful will find an excuse for not training. Dr Jason Gillis of The MMA Training Bible had a good analogy for this. A drug addict does whatever he or she can to find the money to fuel their addiction because they need it. Think of that in the context of MMA or whatever your chosen path. Don't search for excuses for why you can't train or do what you want to do. To be the best and be successful is a need. I'm on a journey to be a champion and pound for pound the best fighter on the planet. Unfortunately the fans didn't get to see much of what I have worked on but I promise to show them some new tricks before the year is out.
With every good thing, people seem to find the negatives in it. Has there been any pressure on you to get the finish in your last couple of fights?
It is funny because my close friends and coaches back home in the U.K joked they had sat down around the TV with their friends and family and were looking forward to 15 minutes of entertainment and just like that it was all over.
There is always pressure to win. There is always pressure to get the finish. I always set out with the goal to finish the fight. I think its a big mistake entering a fight thinking I'm going to win this by taking it to a decision. When you get to a certain level, each fighter has ambitions, dreams and mouths to feed. In 15 minutes you have to make them relinquish those dreams. I have fought Europe's elite that wont throw in the towel like a journeyman on a domestic show and I've dominated them. All these fights have thoroughly entertained the Cage Warriors fans, which for me is where the pressure lays.
All of your previous six fights finished via unanimous decision, which is very impressive to have that over six fighters in a row. How have you judged your previous six performances and your last fight?
I have fought against Europe's elite and I've either had dominating finishes (including 30:25 scorescards) or absolute wars with the likes of Saville and Pastor. In two of those fights I was not 100% and I still could not be beaten. I want to continue fighting the top fighters to cement myself as one of the top 135ers in the world. This is hard when I have highly ranked fighters like David Aranda ducking me.
The main thing is I keep entertaining the fans. Whether I go the distance or finish the fight in the first couple of minutes, the fans are excited to hear I'm on a fight card and love my style. For me it is important to have exciting fights. When you look at how the sport has evolved I think not only is it important to win but you have to do it in exciting fashion nowadays to get noticed.
How closely will you be watching the Cage Warriors BW tournament that will be taking place on September 14th?
I will be watching it very… very closely. In fact I will be at cage side cornering my team mate James 'Power Weasel' Pennington to victory. If you have not heard of the 'Power Weasel' yet then you will definitely have after he lifts the belt on Saturday night!
And will you be waiting at the finish line for the winner to challenge them for the title?
Well like I said, I'm certain James Pennington will have the Cage Warriors Gold around him on Saturday night, he's a superstar in the making. Funnily enough he has had a change in opponent for the semi final but the team at Gym01 had foreseen this occurring and had been preparing James for it.
When it comes to the final, either fighter he faces will look to take it to the mat, neither is James standard stood up but that will be a massive mistake as James is a nightmare on the ground and he will simply end up tearing a limb off. It's the Power Weasels time and in my opinion no one in that tournament can stop him.
I know fighters don't like to look too far ahead, but your name and the UFC has been thrown around a bit lately. Do you feel like you are ready for the UFC should they call you tomorrow?
That is where I am different. I am always planning ahead, constantly improving and setting specific goals to be reached. When ever I bump into someone they ask me "So when is the UFC going to call?" or "Why haven't they signed you yet?". Honestly I have stopped thinking about it. If you think about it too much and it will consume you and you can beat yourself up about it. Many fighters in my position right now would decide to remain inactive, hold onto their ranking and win streak and wait for the call. Again, that is where I differ. I'm going to keep fighting the best international talent and beating them in exciting fights till they have no option but to give me the call. The bottom line is if the call was to come tomorrow I am more than ready to answer it and light up the UFC bantamweight division.
Thanks for your time James, always love watching you fight.
I would like to thank my supplement sponsor Ectomuscle for providing me with all my supplement needs. Demand more from your supplements and check out their V- pack at www.ectomuscle.co.uk. Thank you to my Strength & Conditioning Coach Lee Waite. Interested in being in the best shape when you enter that cage then contact this man (@LeeProedge). Thank you to Gill Leeman of GlSport for all the Pre and Post Fight Treatments. Check out her website at www.glsport.co.uk. Check out The MMA Training Bible (www.themmatrainingbible.com) for a whole host of FREE information by Dr Jason Gillis on how to improve performance and make the most of your mma training. Thank you to Funkygums for my custom made mouthguard (www.funkygums.com). Thank you to my management Intensiti Fighter Management for all their help with my career path (www.intensitifightermanagement.com). Shout out to my team mates and coaches at Gym 01 (www.gym01.com). Check out my website www.jamesbrum.com for all the latest info