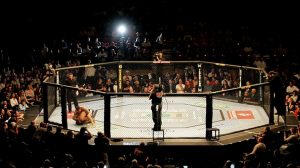 On the heels of a seemingly very successful debut on Fox Sports 1, MMA aficionados will be treated to fight week X 2 kicking off with UFC Fight Night 27: Condit vs. Kampmann 2 on Wednesday.  As many of you recall, the first match up between the two occurred in 2009, with Kampmann eking out a split decision over Condit.  Fast forward to 2013, both welterweights are coming off loses to Johnny Hendricks and undoubtedly seeking a more decisive end to this year's match up.
Looking at Kampmann, what we have to look forward to is a very technical fighter with great foot work, head movement and great stand-up striking.  In addition to those attributes, Kampmann has a very underrated grappling game.  Condit brings much of the same to the table but additionally has great cardio – this is a five round fight – and a great chin! While his grappling and take downs are not first class, Condit does have the ability to work well while on his back and has a superior stand-up striking game.  Who walks away victorious on Wednesday night is a tough call.
The evening's co-main event features "The Cowboy" Donald Cerrone vs. Rafael dos Anjos. The twenty-eight year old dos Anjos comes to the cage on a four win streak with wins against Mark Bocek, Gleison Tibau and most notably his first round KO of George Sotiropoulos.  dos Anjos definitely has strong BJJ skills and has a history of utilizing arm bars and rear naked chokes to finish his opponest.  Cerrone, however is the more well rounded fighter in this match-up.  Cerrone has a superior stand-up game as well has great take-down defense and grappling.  That being said, dos Anjos will need to demonstrate improvement in his most areas of his game to counter Cerrone's speed and skill as a great technical fighter.
Aside from what will be some entertaining match-ups in the main and co-main event slots, the Fox 1 2 ( aka Fight Night 27) card offers some other interesting match-ups including TUF winner Kelvin Gastelum vs. Brian Melancon where the wrestling and submissions of Gastelum will be pitted against the equally fierce wrestling and ground and pound offered by Melancon.  Melancon also has a slight edge in stand-up.  Court McGee vs. Robert Whittaker pits the winner of TUF 11 (McGee) against  Robert Whitaker who brought home the money in TUF Smashes.  Both fighters are very good with McGee possibly showing an edge with his boxing and sharp ground game.  Shooto veteran Takeya Mizugaki takes on new kid on the block Erik Perez.  This match up while seemingly providing an easy pick with the experience of Mizugaki vs Perez, may not be as basic as it seems. And finally, we have the match-up between Brad Tavares and the more experienced Robert McDaniel.  While Tavares has good takedown defense and good stand-up, Bubba has a mixed bag of experience with multiple submissions , KOs and recent tutelage by Jon Jones.
Fight Night 27 offers six additional preliminary bouts featured on Fox 2 and Facebook.  All in all, I'd say, not bad for a Wednesday night!