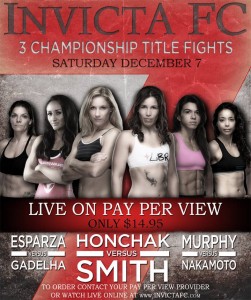 Invicta FC 7 will give the fans more access than ever on their 7th card.
Invicta FC have secured a stream for weigh-ins, preliminary fights, and the post fight press conference on Invicta FC's Facebook page. The two free bouts that will be offered will be Nina Ansaroff vs Munah Holland, and Sarah D'Alelio vs Tonya Evinger. The post fight press conference stream will be available to fans live for the first time.
Invicta have also added Paypal as an option available for people to purchase the event online via the UStream channel, and will also be available on mobile devices, along with previous other method's available to watch the card.
The nine fight card will shown from the Ameristar Casino in Kansas City on December 7, which will feature three title bout matches:
Champion Carla Esparza vs Claudia Gadelha for the strawweight title
Lauren Murphy vs Miriam Nakamoto for the vacant bantamweight title
Champion Barb Honchak vs Leslie Smith