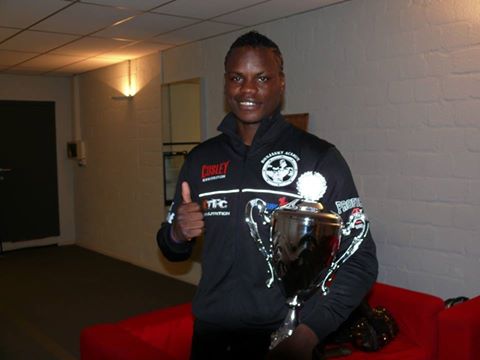 For those of you familiar with the kickboxing/muay thai scene in Germany, the name Danyo Ilunga is easily recognizable.  In a relatively short time, this fighter has had 51 fights racking up an impressive 46 wins with 36 coming by way of knockout.  In addition to being the It's Showtime 95MAX world champion, Danyo has held, in 2010 the I.K.B.O. Muaythai heavyweight world champion -95 kg title and in 2009, the I.M.C. Muaythai world champion -95 kg title. 
I had the pleasure of interviewing Dibuba recently.  I found him to be far more than just a man with a plan in the ring, determined to impose his will over his opponent.  Danyo also presents as driven, well spoken, and reflective.  After reading, you'll understand how I came to the conclusion that he has the makings for a champ both in and out of the ring!
SW: How is it that you chose kickboxing as a profession?
DI: It wasn't planned at all. I went to an opening at a gym in 2007 and I saw that there's a martial arts school as well. The coach there (Asmir Burgic) motivated me to join training and that's how it all started for me.
SW: Compared to some fighters, you are very young in your career beginning kickboxing only in 2006, is that correct?
DI: Yes, I'm pretty much a rookie because I started very late with this sport but no matter what, I'm training really hard to compensate this difference.
SW: In 2011 you became the It's Showtime 95MAX champion and you have also held titles in the IMC and IKBO. You are currently the number two ranked light heavyweight and I'm sure you have your eye on Tyrone Spong who is currently number one. Once you've achieved the number one ranking what else do you see in your future?
DI: I've fought Tyrone before but the fight wasn't that fair. Before the fight happened, I was No. 1. The referee stopped the fight incomprehensibly. With that decision, I've lost the opportunity to win the tournament. This was my biggest goal and of course to be the No. 1. It's still my goal to win the GLORY WGP. With that, I think I'll be able to gain my No. 1 spot back. No matter who I need to fight to make this happen.
SW: This is your fourth GLORY event with impressive wins in GLORY 2, 5 and 9 until the final fight with Tyrone Spong.  Many fight fans feel the loss was very controversial.  Although it later was revealed that there was"no standing eight count" rule in effect at the event as per the New York State Athletic Commission's regulations, do you personally feel the stoppage was premature.
DI: Tyrone is an amazing fighter and I have tons of respect for him and yes, he hit me in the fight pretty good. But: I was never unable to compete nor close to being KO which means I would've stayed needed to stay on the floor to get the 8 count even though I didn't feel chipped. GLORY is a professional event in which we need to fight under professional rules which need to be laid out correctly. Sadly, the ref didn't even give me the time to adjust to Tyrone and the fight. We, the team, took the decision as it was made.
SW: Are you still training with Remy Bonjasky?  If so, how is that going?
DI: Yes, the training with Remy Bonjasky is going really good. Here in the Netherlands I have amazing sparring partners and who else can teach me more than the guy who won the K-1 WGP three times?
SW: Your opponent for GLORY 11 is Michael Duut.  Duut is known as a very hard hitting and aggressive fighter.  You are also known to be a very dominant fighter with knock-out power in both hands.  Is there anything in particular you've been doing in training to counter Duut's style?
DI: I've been preparing for Duut very well but I'll just keep on fighting like I always have.
SW: Besides winning the fight with Duut and dethroning Spong to become the number one light heavyweight is there anyone else that you'd really like to fight?
DI: I'll put it this way: As a fighter, you always want to fight the biggest and hardest contenders, therefore I could really imagine fighting everyone they put in front of me.
SW: Five fun facts: (Just a few questions to help the fans know you better as a person)
DI: When you are not training, what are your favorite things to do in your spare time?
SW: I'm making music in a Gospel Choir (Ilunga Gospel Family) and I play with my dogs.
SW: Do you have any heroes?
DI: Hero: Superman. Idols: Remy Bojansky
SW: What was the last good movie you saw?
DI: Man of Steel
SW: If you weren't a kickboxer what profession would you choose?
DI: Police Officer
SW: What is your favorite meal?
DI: Chicken with Rice
Special thanks go to Danyo's manager, Frank Mach who was gracious enough to facilitate this interview and also for supplying such great pictures via Frank Mach/StarCreator.eu.  Special thanks also go to Ms. Ella Hinz of Germany who helped me bridge the language gap!