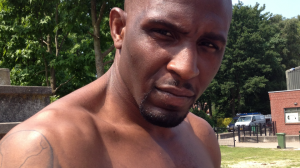 We are days away from BAMMA 13 where they will make history again by being the only UK based Mixed Martial Arts promotion to successfully continue broadcasting their collection of fights via a terrestrial television company. Someone else looking to make history on Saturday night is Jason "The Villain" Jones. The imposing often mysterious mixed martial artist is in very high spirits and in an unusually verbose mood when explaining where his preparations for Saturdays title fight have taken him. "I've been training with the Mousasi Camp and here in Amsterdam with an outfit called MMA Amsterdam I've been doing a lot of work for this fight." he explained whilst exiting his final round of sparring before boarding a plane for Birmingham.
When comparing the two athletes records you would be correct in thinking the edge should  favour the more experienced and seasoned fighter. One would think that Max Nunes' strategy of training in various camps including the Alliance fight camp in San Diego is a recipe for success that will counteract Jason Jones' years in the cage. Jason doesn't seem convinced of this as he tells me excitedly:
"This fight has nothing to do with experience this is a fight all about skills and you will see that he will come up short being an MMA guy against someone like me. I've got too much skills for that guy. I don't care who he has been training with. He could be training with motherfu**ing Jon Jones the Greg Jackson team or whatever man I couldn't give a f**k you understand! When the bell sounds he'll be facing me. The type of pressure and violence I bring he cannot simulate these things in training. My mindset is pretty clear that is I will  destroy and conquer."
As I press him on his experience we touch on the fact he has been around a lot longer than Nunes and in certain peoples eyes perhaps holding onto 'Old School' principles of the fight game in terms of approach. Interrupting, his voice growling akin to Walter White from Breaking Bad, Jones, without a single pause says: "Max Nunes recently spoke about me being from the 'old school' When I started he was 14 years of age. When I really started he wasn't even around his Mom and Dad were thinking about making him if you understand what I mean? I can imagine that he would think he's a new breed of fighter, but the only thing 'New Breed' about him is that he'll be my 'New Breed' victim!"
As our conversation draws to a close I'm keen to find out what plans Jason has beyond this title fight in particular further BAMMA match ups that excite him. He's clearly focussed on Max Nunes and after giving me the prerequisite "I'll fight whoever BAMMA put in front of me" I press until he tells me who is really on his mind after Saturday night is out of the way. I've clearly worn him down as he concedes: "I would love to fight against Ninja Rua again. I lost to this douche bag, this sissy. If you've seen my record I have some wins, some losses. A lot of my fights I got robbed and sh*t. I see this guy Ninja on You Tube videos and I feel so disgusted with myself, this guy actually listens to Lionel Richie, I lost to a guy who listens to Lionel Richie! That make me sick to my stomach. This rematch must take place. Every fu**ing year he says he's retired and then he comes back again. I know he loves to come back to England every time so either way I'd love to fight this guy and then he can really retire!"
Watch Max "Power" Nunes take on Jason Jones to crown the inaugural BAMMA World Light Heavyweight Champion on September 14th live on 5* with highlights on Channel 5. If you're in the United States catch all the action on AXS TV and The Fight Network in Canada.