In a new monthly feature I delve a little further into the local scenes of MMA around the world. We all know the major internationally renowned promotions but what about the fighters coming up in the world of MMA or those that have been to the top of the sport, where do they all ply their trade?
In this first edition of #WHOATV's 'MMA Grass Roots' we take a look at CES MMA, a promotion based in New England. I talked to their Director of Operations & matchmaker Patrick Sullivan about the history of the promotion, the people behind it and what the future holds for them.
CES MMA was the brainchild of Jimmy Burchfield Sr., a professional boxing judge who travelled all over the world to judge World Championship fights, he started Classic Entertainment & Sports, Inc. 25 years ago and began promoting boxing in New England, and then eventually worldwide. In his career he promoted champions Vinny Paz, Chad Dawson, Peter Manfredo Jr. among countless other stars and had promoted shows from Rhode Island to Japan.
Jimmy Burchfield Sr. spotted a new opportunity in 2010 when the state of Rhode Island passed the rules and regulations for professional mixed-martial arts and then CES MMA was formed under Jimmy's guidance. Now both divisions of CES, MMA and Boxing, work together to put on over 20 shows combined a year. Their first MMA show was in September 2010 and since have run 22 events.
The people behind CES MMA:
Jimmy Burchfield Sr. – President / CEO / Promoter
Jimmy Burchfield Jr. – Vice President / Legal Council
Patrick Sullivan – Director of Operations
Michael Parente – Director of Media Relations
Rick Provost – Sales and Brand Building Director
Fred Blanck – Event Operations
The experience of promoting shows for many years in boxing lead to an easy transition, however there were a few learning curves for the team, "we have been use to regulations and commissions for over two decades in boxing, so it was an easy transition as far as rules go," Sullivan said. "The sport itself and the players in it are certainly different than boxing so the biggest difference was learning to know who in this sport is real and who can be trusted. I believe when fans first started coming to the shows they were unsure what product CES MMA was going to put on, with us being a new promotion in the sport, and I believe now these fans know that when they come to CES MMA, they are going to be in for a night of entertainment. Our goal is to give those who pay for tickets, a night out that they will always remember."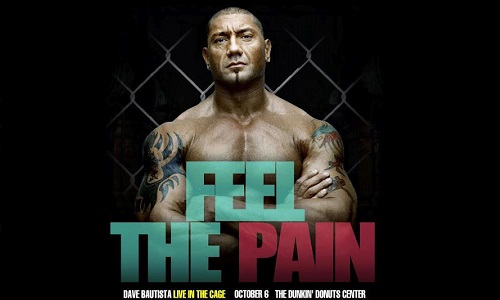 Over the past three and a half years many fighters have went through the promotion but none with the celebrity status of that of Dave Bautista who made his MMA debut for the promotion in just second year of operation. That fight hit headlines all around the world due to Bautista's fame and it being his foray into the competitive side of MMA.
"We met with Dave Bautista about a full year before our actual event on October 6, 2012. It took that long for the event to come about because Dave was in the middle of filming a movie project and then it seemed like that was the best date for everyone's success," said Sullivan. "Fighting professionally was something Dave always wanted to do. He is a student of the sport and regardless of what anyone thought or thinks of Bautista, I give him all the credit in the world. At 43-years-old he went through a 3 month fight camp with UFC veterans and then made his pro debut on world wide PPV. He set his heart out on accomplishing a goal of his and he did it. After the fight he said more important that getting the win, he was most proud of gaining the respect of everyone in his fight camp. That is what this sport is all about."
In regards to dealing with Bautista, Sullivan sang his praises, "dealing with Dave was different in that he is a world wide celebrity. You would never know it if you were with him one on one where you could sit and have a conversation with him. When we first met with him to discuss this fight, we were impressed by how honest and humble he is. When Dave set his travel plans to come to Providence for his fight, the most important part of his trip was going to visit the Children's Hospital. We delayed his training one night so he could stay extra long at the hospital because there were more children who wanted to meet Dave."
So what about the fans that have helped keep this promotion going? Surely when a promotion stays in the same area it can get stagnant and people can get bored of the same product but CES MMA have found a solution to this with an average of around 3,000 people at each show so Sullivan says, "we don't just have fighters from our area on the card, we draw from all over the country so we constantly have new fans attending our shows. Since we are located just outside the hottest sports city in the world, Boston, we also have a good number of professional athletes at our shows.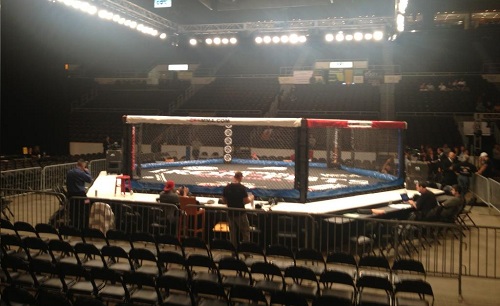 "CES is the only combat sports promotion worldwide where the Wounded Warrior Project approve their members to go to. On any given show we have between 60-100 members of the Project. Twin River Casino is our home. We love hosting our fights there. It's a great venue, has free parking, great food options for our fans and then live gaming. There is something at Twin River for everyone which is why we love it so much there. Our fans don't just come to the fights, they come out for an entire evening of fun."
As with any promotion, or business for that matter, it is essential to keep evolving in order to keep being successful and that is something the CES brass have recognised over the years and Sullivan gave us an insight of how the promotion has done that in the past and what the future plans are,
"Our goal is to keep improving every event and to bring more excitement and more entertainment to our fans with each show. Providence is our home and we want to bring more people to our city. Would we like to grow and extend our reach to other areas, sure, and we will. Right now our focus is on finding the most exciting fighters, putting on the most entertaining fights and giving fans a bargain no matter what ticket price they purchase!
We have worked with so many different fighters and I think what fans love best is they get to see some future stars start the card off and then we end the show with some of the best fighters in the country. In 2012-2013 we featured UFC star John "Doomsday" Howard in 5 events. We currently work with former UFC veterans Drew Fickett, Chuck O'Neil, Thomas Egan and more. We also have our own production company that produces our fights, so television is definitely in the future."
Also one last thing, I just want to say thanks you to everyone who attends and supports CES MMA events. We pride ourselves on bringing you the best entertainment possible. We promise to bring you bigger and better shows everytime we set up the cage! CES has the best team and staff in all of combat sports. We are fortunate to have Jimmy Burchfield Sr. as the head of this company and the wealth of knowledge and wisdom he has is unparalleled in this sport!"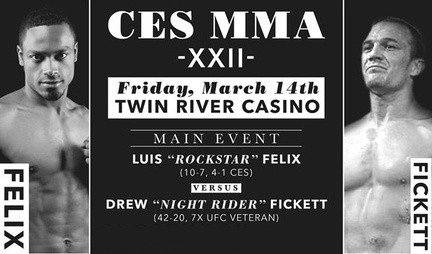 This Friday night, March 14th, CES MMA have possibly their most exciting card to date. In the main event big-show veteran and grappling ace Drew Fickett (42-20) takes on Luis Felix (10-7) who has been impressive recently with wins over current UFC lightweight Joe Proctor and UFC alum Marc Stevens.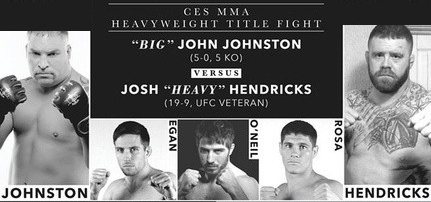 In the co-main is a heavyweight showdown between the dangerous striker John Johnston (5-0) vs. UFC veteran Josh Hendricks (19-9). Also on the card is TUF vet Chuck O'Neil (12-6) vs. Roger Carroll (13-19), Irishman Tom Egan (7-4) vs. Chip Pollard (7-6), and Charles Rosa (7-0) vs. Brylan Van Artsdalen (9-9)
To keep track of CES MMA on facebook, twitter (@CESMMA) and check out their fights on YouTube.
Their websites are www.CESMMA.com and www.CESBoxing.com.