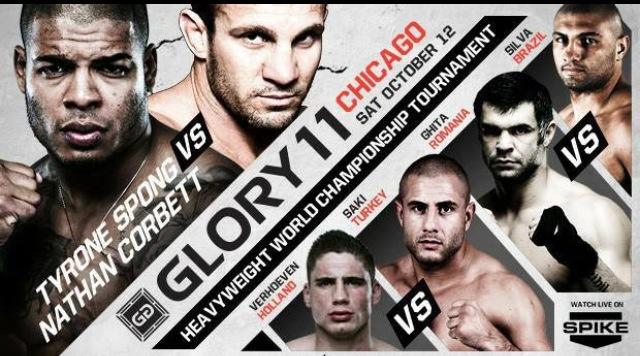 While Glory has been putting on shows in the States for the better part of this year, the major question on my mind and in the minds of many others was whether Glory's union with Spike TV would produce the positive results we were all anticipating.  From my experience at both the hotel and the event itself, I give an emphatic yes and thumbs up!
From the start of my journey to GLORY 11 until its end I was extremely impressed by Glory.  The event was well orchestrated and done so in an environment that was extremely fan and media friendly.  From the open work-outs to the weigh-ins to the actual event, Glory in conjunction with Spike TV appeared to be ready to show the world what kickboxing is all about.  It's definitely an experience everyone should have at least once.
Like many others, I had been anxiously awaiting the heavyweight tourney which featured four of the biggest names in kickboxing today, Ghita, Saki, Verhoeven and Silva.  Much to my surprise – I had anticipated Ghita v Saki III in the final – as well as many others, Rico Verhoeven shocked the combat sports community by taking out Gokhan Saki via decision in the first bout of the tournament.  Having always been a fan of Verhoeven, I as well as many others was surprised at how his fight game has evolved and his willingness to take bigger chances in the ring.
This match was immediately followed up by the quick dispatch of Anderson Silva by Daniel Ghita at 1:56 in round one.  Probably one of the more entertaining bouts of the event was the tournament reserve match up between Hesdy Gerges and Errol Zimmerman.  From start to finish, this match up was non-stop action with heavy blows being delivered by Zimmerman.
In the latter half of round two, Gerges began to provide an answer to Zimmerman's hard shots to the head and body but to no avail, Zimmerman owned round 2.  Round 3 saw Hesdy being knocked down twice by Zimmerman calling a close to the fight.  The much anticipated final featured Daniel Ghita versus Rico Verhoeven.  During this bout each man traded shots in synchronous fashion with neither willing to be bested by the other.
Ultimately, however, Verhoeven emerged as the victor via unanimous decision.  As the surprise victor in this tourney, Rico showed the world that he is constantly evolving.  In the ring he demonstrated an improvement in his foot work, head movement and ability to work angles.
In a single night, he proved he was the better man, defeating two of the best heavyweights the world has to offer.  No one else can say they beat Saki and Ghita on a single night and it probably will never happen again.
Other great fights at GLORY 11 include the decisive victory of Danyo Ilunga over Michael Duut via knock out in round 1.  True to form, Ilunga entered the ring in traditional garb but with a single mission in mind.  From Ilunga's fast and furious start at the fight's beginning to his ultimate knock out of Duut, Ilunga has again made a statement that he is a top contender in kickboxing and should not be taken lightly.
The superfight between Sergei Kharitonov and Daniel Sam was another great fight, actually a slugfest.  This match featured both men trading brutal shots to the head and body with neither willing to go down.  In the end, Kharitonov gained the glory but Daniel Sam could definitely walk away with his head held high for a job well done!
Australian Steve Moxon defeated Reece McAllister via knock out in round three.  Early on, McAllister demonstrated great boxing but by round two Moxon had found his rhythm, putting McAllister down at the start of round three.
The match between Saulo Cavalari and Filip Verlindin was primarily an exercise in Cavalari delivering multiple unanswered shots to Verlindin with Cavalari being victorious in the end via unanimous decision.  Canada's Joseph Valtellini took on the French Moroccan Karim Ghaji in a three round affair in which Valtellini was able to add another win to his record.
Besides the outcome of the heavyweight tourney, another shocker came from Tyrone Spong who announced he would be closing out the year with a boxing match.  Spong's defeat of Corbett was not surprising.
This fight, a rematch to avenge Spong's loss four years ago has allowed Spong the time to evolve and develop as a fighter.  While Corbett did come out strong in the first round with strong leg kicks, Spong answered with his own combination of kicks and body shots, ultimately cutting Corbett down twice in the second round and leading to a victory at 1:10 in the second for Spong.
As usual, Glory put on a great show!  How they manage to continue to come up with cards stacked with the most talented fighters all over the globe is beyond me but all I can say is "Please don't stop!"