Resurrection Fighting Alliance has garnered a reputation as being a proving ground for fighters looking to get to the UFC. The American promotion seemed it could do no wrong but last night at RFA 14 something happened, it seemed odd at first but soon after it strikes you as horrific.
Bloody Elbow reported that Junior Maranhao collapsed off his stool between the fourth and fifth round of his fight against Matt Manzanares for the vacant flyweight title. Below you will see a GIF of the incident made by @ZProphet_MMA. Maranhao lost the fight by decision.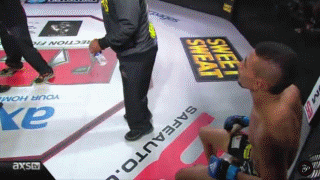 Alan's Angle: This is unacceptable, the fight should have been stopped there and then. Fighter safety is worth more than a 'W' or having a title. I don't know who is more to blame the doctor, the cornermen or the referee. I hope RFA take action here and make a precedent that actions like this is not acceptable.