With Bellator 134: The British Invasion fast approaching, the promotion has began to ramp up its fight week activity drawing in names such as Fedor Emelianenko, Ken Shamrock, Royce Gracie, Tito Ortiz and Kimbo Slice.
And it's the last name on this list which has inspired me to draw up a list of potential opponents for Kimbo Slice following his signing with Bellator. I am partly going on a prayer here but I think Bellator would be stupid not to capitalise on the build up to Bellator 134 by announcing Kimbo's opponent for his debut fight with the promotion. It could be nothing but seems odd to me that they would invite him along to be part of the fight week and not break that news.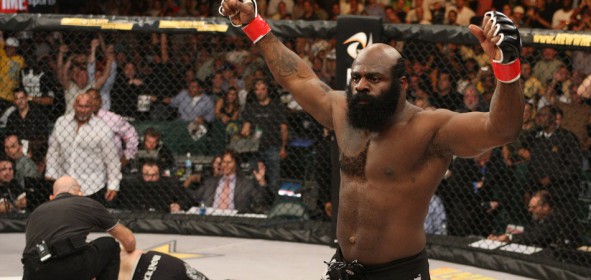 So with that in mind here are my suggestions for five potential opponents to welcome Kimbo Slice to Bellator;
Bob Sapp
Well, well, well. What can be said about Bob Sapp that hasn't already been said? Sapp has been in the sport since the early 2000's and for all the right/wrong reasons has managed to build himself as a household name with a big following regardless of where/who he is fighting. There has been plenty of adversity behind him and an interview with Ariel Helwani all but had Sapp confirming he had taken a dive in some of his fights. But all of that besides could you just imagine the draw Sapp Vs Slice would create? Two monster Heavyweights, both with huge followings almost gives Bellator no other option than to put this fight on PPV. It may not be pretty and it may be over very quickly but tell me you wouldn't watch this one? The one concern aside from Sapp's retirement in April 2014 would be where this fight took place. I think it would be difficult to get Sapp licensed in many states in the USA given his announcements that he had taken a dive, so location wise apart Im sure Bellator could lure him out of retirement with the right figure and put him and Kimbo on PPV, and reap the rewards.
Seth Petruzelli
Petruzelli largely lived off the fact that he holds a win over Kimbo for most of his professional career and what better way to entice him back to MMA than with the chance to get another win over Kimbo? Petruzelli announced his retirement in June 2013 and has not fought since then, but Bellator have the chance to capitalise on a huge opportunity and bring back the man who squashed the Kimbo hype. It's probably a very long shot to get this one booked given where Petruzelli is in his life, but you can bet your bottom dollar that Kimbo would love nothing more than to avenge his first MMA career loss and show the improvements he has made. Petruzelli is very outspoken and has a great personality so would created some great hype ahead of this fight which he is more than capable of backing up in the cage.
Tito Ortiz
This fight would certainly do big numbers but first and foremost there would be a lot of negotiation to be done on what weight this fight went down at. A catch weight would work for sure but it would need to be realistic for both guys, with Tito not wanting to give away too much strength/size against Kimbo not wanting to drop too low and have his performance affected. The only other issue would be convincing Tito that the fight makes sense for him as arguably it's a bit of a lose/lose situation for him at this stage. But im sure if the money is right Bellator could convince him otherwise. There is some animosity between the pair and Kimbo has publicly announced he has a bone to pick with The Huntington beach Badboy. "From back in the Strikeforce days, I was handling s**t about him calling me out and talking s**t about me, so yeah, we could definitely put that in the making." So from that perspective Bellator would certainly be able to play up to the existing feud to really sell the fight, over and above just having Ortiz Vs Slice, which in itself would sell.
Brock Lesnar
Could you just imagine Brock Lesnar Vs Kimbo Slice going down in 2015? I struggle to see how Bellator would not generate a phenomenal interest if they had the chance of pulling this one off. While the thought of this one taking place gets me excited I think we would need to see Viacom really step up to the mark and put some serious cash in front of Brock to get him across to Bellator ahead of signing with the UFC. And when I saw serious cash im thinking in the region of $3m per fight. There is so much talk about Lesnar returning to MMA but until we see it has been confirmed its very hard to get too excited, given just how precious the WWE are of this superstar. So aside from the cash angle which largely hinges this one towards no chance of ever happening, in a world where cash is not an issue this fight would be a true test of two Heavyweight monsters both giving it their last real shot at making something of their MMA careers, and one I would definitely not miss for the world. It would also test Lesnar's ability to take a shot which is something he has been critiqued for in the past, but on the flipside Kimbo's ability to deal with wrestlers which has been his kryptonite.
Loser of Kongo/Lawal
Now I think there is some merit in Kimbo fighting either of these two, but I think the winner of this fight probably deserves and would want to be moving towards Title contention and in such a small division (18 fighters) I would be supportive of that. So why not throw him in with the loser of the fight? Arguably both Kongo and Lawal are of a higher skill set than Kimbo but we haven't seen Kimbo compete since 2010 so its hard to quantify just how much he has improved since then, if at all? It's probably more than likely that Lawal would rally for a move back to Light Heavyweight if he lost to Kongo but I'm sure if he was given the opportunity to fight Kimbo he would certainly back his wrestling ability to overcome Kimbo's striking. Likewise Kongo would be a good opponent for Kimbo and you would have to back Kimbo if the fight was able to stay on the feet. Two vastly different potential opponents for Kimbo and two opponents who would help boost his stock with a victory over.
As always open to feedback/comments/suggestions on our facebook page which is facebook.com/whoatv