With the Jose Aldo vs. Conor McGregor main event in jeopardy due to the champ sustaining a reported rib injury a number of fighters have thrown their hat in the ring to fight the Irishman.
Frankie Edgar – many feel that Edgar deserved a shot at Aldo ahead of McGregor and they could arguably be right. A fight with McGregor could be a true number one contender fight. Here he posted the following image on his Instagram along with "staring at my phone like…."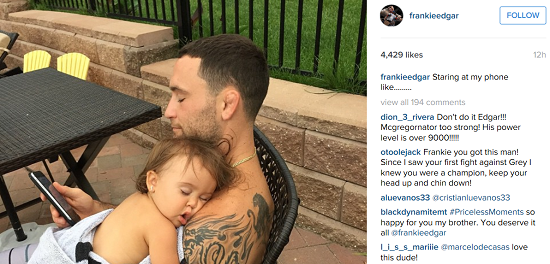 Joseph Duffy – beat McGregor once before and is likely using this situation to get his name out there more. Has a fight coming up in Scotland so a fight in Vegas is highly unlikely. A McGregor vs. Duffy rematch is inevitable though, just not yet.

Urijah Faber – has stated in the past his desire to fight McGregor. Does it make sense yet though? I don't think so.

Jeremy Stephens – if the UFC do risk McGregor against someone it will be against someone like Frankie Edgar. Stephens is a dangerous fighter and it would make no sense risking McGregor against him.