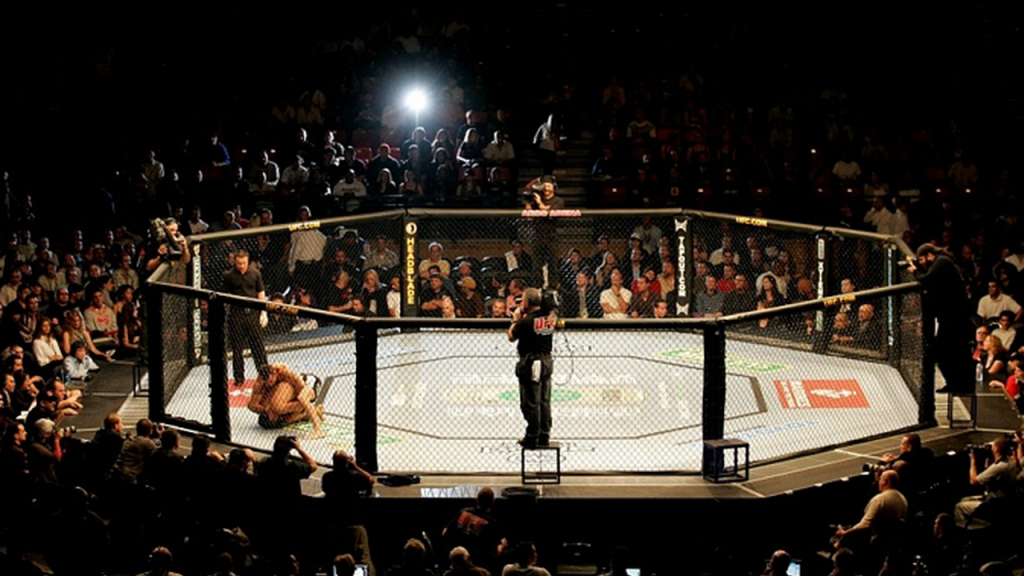 This past week saw the UFC return to Brazil with UFC Fight Night 29: Maia vs. Shields and we were treated to a solid night of fights, but as we have grown accustom to with the Brazilian cards there was not an abundance of star power to draw in the casual fan. One of the better known fighters on the card night was Erick Silva who faced off against Dong Hyun Kim in my pick for Fight of the Night.
Silva has consistently been built up by the UFC as a high level prospect in the welterweight division, a potential future champ, and at very least a reputable contender. A tough loss to Jon Fitch last October temporarily derailed these plans, but in defeat Silva had gained the respect of the MMA community after pushing Fitch as far as most had in the UFC. A victory over Jason High followed and the match-up with Kim on Wednesday was set for Silva to regain what momentum he had lost at the hands of Fitch, claim his gateway victory and move on to the elite of the division.
After an opening round where we saw Silva showcase his aggressive striking and Kim implement his smothering top game to take the round, things really started warming up in the second. Silva appeared to be on his way to a finish as the Brazilian teed off on an increasingly exhausted Kim with alarming regularity until just over halfway in to the round. The fight was ended with 3:01 on the clock when Kim struck with a powerful overhand left that stunned the vociferous locals who had greeted each strike from Silva with cheers as deafening as the silence Kim had created in delivering the knockout blow.
With that decisive shot, Kim not only stole the spotlight of the night, he also removed Erick Silva's name from any future talk of title contention and took his steps towards the upper echelons of the division. For me, the talk of Silva being a prospect can now be put to rest.
First off, when I first learned of Silva's age I was surprised, not only by his youthful appearance, but also by the UFC's and the wider MMA media's characterisation of Silva as a prospect. I, rightly or wrongly, identify the term 'prospect' within MMA as a young, precocious talent that has all the right tools to succeed but just requires the kind of time that they would have at such a young age to grow and develop. For this, see 22 year old Michael McDonald, not 29 year old Erick Silva. Silva has been spoken of as a prospect since he entered the UFC at 27 years old and with 14 fights behind him. He was an exciting talent but at that age and with that level of in-cage experience for me, a prospect he was not.
While I feel that Silva is an incredibly exciting talent who guarantees fireworks in the Octagon, in defeat to Kim, Silva was to display fatal flaws that unless eradicated will see him continue his current career pattern in the UFC of stumbling when it matters most. Silva's muay thai is brutal when effective, however his eagerness in hunting for that one conclusive strike often leaves him open to retaliation as Kim violently confirmed. The wild looping strikes need to be left at home as a missed strike, of which there were many on Wednesday night, will only seek to tire you out rather than affect your opponent, which leads me on to an issue Silva has shown some difficulty in preventing and that is his less than stellar cardio.
Silva's inability to pace himself has led him to gas on more than one occasion which leaves himself far more susceptible to the takedown, a flaw Fitch would go on to repeatedly expose, as would Kim in the opening round of their bout. While I have mentioned that Kim was suffering with the pace, it is worth noting that Silva was not too far behind. As the fight progressed, Silva's quest for the knockout grew more desperate and the shots thrown by the Brazilian would leave him off balance on occasion due to tiredness setting in, allowing Kim to close the distance and push Silva against the cage to not only catch some of his breath but also further drain his opponent.
It could be said that Silva has been poorly managed by the UFC and rushed in to fights that he was not ready for, which can certainly be said of the Jon Fitch fight, however other than the Fitch fight there has not been one bout where I have felt he was placed in a fight that was out of his reach, if anything he has been brought about in the right manner. Where the Jon Fitch fight came too soon and was too big a leap at the time, Silva's latest setback against Kim was a perfectly timed piece of match-making as each man needed a name victory to propel them up the rankings and in to a fight with a top 5 or 10 opponent.
Silva was unable to grasp the nettle on this occasion and will now be forced to build from scratch again as he looks to position himself for another shot at the top 10 of the welterweight division. While Silva has a style that lends itself to excitement, and is a fighter that I will continue to look forward to competing, it is likely that we will be a few fights away from another opportunity such as this and by that point Silva will no longer be a supposed prospect but perhaps one defeat away from gatekeeper status.