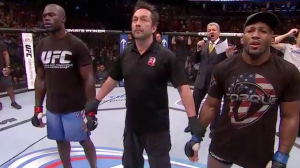 Holy déjà vu Batman! We've been here before with Urijah Hall though haven't we? The 29 year old originally from Spanish Town, Jamaica built up a fearsome reputation whilst in the TUF 17 house. He was the lone gunman shunning friends, an assassin quick to pull the trigger with no mercy or forethought. However, last night, just like his previous outing at the TUF 17 Finale, Hall resolved to keep the infrared scope, silencer and shoulder holster tucked into his violin case.
So what do you do with a killer who won't push the trigger? If Dana White's Twitter feed was anything to go by, not an awful lot. "HORRIBLE!!!!! The high 5 of the night WTF" White tweeted, showing his disdain for what appeared to be Hall's man crush for his opponent. "There was one fight that I didn't love on the card" White later told a packed post fight press conference. No prizes for who he was referring to.
Evidently Hall needs to search out the ferocity that made him so feared on TUF, but from the confines of a smaller show, away from the bright lights of the UFC and all the pressure that it brings. It's clear from what we have seen thus far, Hall isn't ready for a world class show that expects world class performances from world class athletes.