Conor McGregor, that name has rung right through the UFC like very few before him. The brash young star from Dublin, Ireland has dominated headlines like he has all of his opponents. His quick wit and fast tongue along with the UFC's special attention towards the fighter seems to have rubbed some fighters up the wrong way.
Chad Mendes
McGregor had some choice words for the number one contender calling him "a little small bodybuilder" and that he would "maul him" if they fought. In speaking to Fox Sports Chad Mendes responded to McGregor's comments.
"The shortness thing, guys always kind of go with that 'cause I'm short, but I've been short and small my entire life. That's nothing I'm not used to. The short jokes don't bother me at all. He keeps digging at that, so it is what it is," said Mendes.
Mendes then ran down through a list of fighters he think would beat the Irish star while adding how he would fair against him should they ever square off.
"There are multiple guys who will beat this guy in the division. I think I would kill him," Mendes said. "Dennis Bermudez, Clay Guida, Nik Lentz, all these guys that are strong, solid wrestlers that can take a punch and keep coming and just have great gas tanks will destroy him."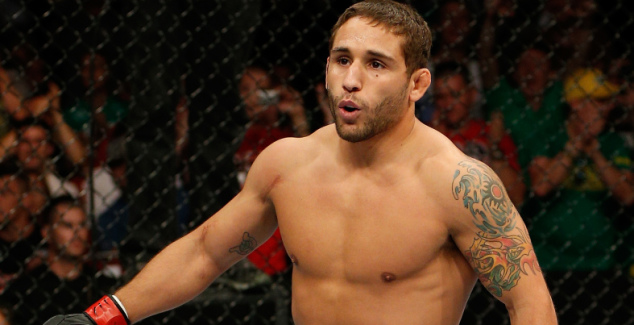 Dennis Bermudez
In speaking to our friends over at Submission Radio Dennis Bermudez was asked a number of Conor McGregor related questions. Speaking hypothetically, Bermudez was asked whether he would be annoyed if he was booked in a fight against McGregor for the number one contender spot.
"No, because I'll beat him up and then I'll get my title shot," said Bermudez.
He was then asked his opinion on Dana White saying that McGregor could be next for the title if Aldo wins, meaning that McGregor would seemingly skip the que.
"I mean, it's bullshit yeah. But I am just trying to stick at what I am good at and focus on the guy who is in front of me and if I keep winning then the belt is going to land right across my lap." Before adding, "Yeah to answer your question, it's annoying but f**k him (McGregor), I don't give a sh*t, I'll get my shot. Whether it is beating him up and then getting a shot or I get the shot right away."
He then said "I really don't give a shit about Conor McGregor" when asked about the hype train and if he thinks it is legit.
Check out the full interview below which runs from roughly the 5:00 mark to 13:30 mark.