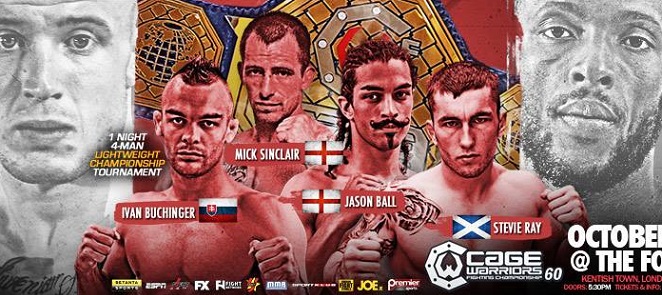 Cage Warriors 60 takes place in The Forum in London this Saturday and has a very nice mix of MMA action in store for fight fans.
The main focus of the card is the 4-man one-night tournament to crown a new lightweight champion. Conor McGregor's signing for the UFC meant he had to vacate the title. Four great fighters are set to battle it out for a chance at championship gold. The first round will see Jason Ball (20-12) take on Steven Ray (12-4) and Ivan Buchinger (23-4) face Mick Sinclair (12-3).
Jason Ball, who has consistently fought top opposition over the years, has already competed against Buchinger and Sinclair, losing both by unanimous decisions. This will be Buchinger's second chance at the lightweight title after the first time ended in a highlight reel knockout from McGregor, he has since won two fights in Cage Warriors justifying this second opportunity. Sinclair has only been defeated once since 2008 in nine outings and will be looking to make an impression in his Cage Warriors debut. Ray, in his third year as a pro, could be considered the underdog in this tournament but certainly possesses the skills to make a good go at the title.
Also on the card is a fight between two UK TUF veterans in Aaron Wilkinson (10-6) and Bola Omoyele (7-1) in the Cage Warriors welterweight division. Wilkinson appeared on the TUF 12 series but lost to Cody McKenzie in the finales, he has since went 4-2. Omoyele's TUF experience was on The Smashes season but lost on the first round of fights in the house. Unfortunately he was not given a chance to compete in the UFC but has since signed with Cage Warriors and was impressive in his debut winning via KO.
MAIN CARD (9pm local time)
Tournament Final: Ball or Ray vs. Buchinger or Sinclair
Omoyele vs. Wilkinson
Barnes vs. Karski
Creighton vs. Hewitt
Kelly vs. Stephens
Allen vs. Williams
FACEBOOK PRELIMS (7.45pm local time)
Michailidis vs. Narimani
Tournament Semi-Final: Ball vs. Ray, Buchinger vs. Sinclair
Cage Warriors 60 can be viewed through the following channels;
MMAjunkie.com | USA & Canada
JOE.ie | Ireland
CageWarriors.tv | Rest of the World
PremierSports.tv | United Kingdom