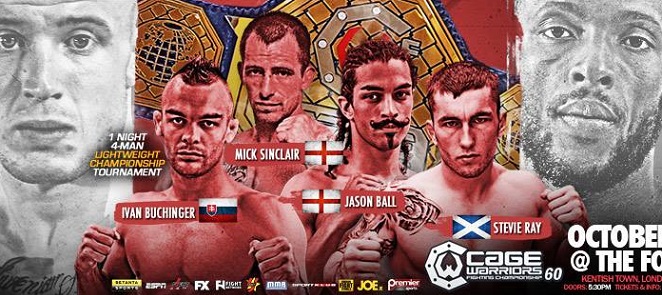 The main focus of Cage Warriors 60 was to find a new lightweight champion through the use of a 4-man one-night tournament. There is always a risk with a one-night tourney and the unpredictability of them was in full effect on Saturday night in The Forum in London.
The four fighters took to the cage in their respective fights early in the night with Ivan Buchinger defeating Mick Sinclair via submission (Americana) and Stevie Ray defeating Jason Ball via unanimous decision. The two favourites won their fight, nothing too strange there right? Well Mick Sinclair done an awful lot of damage in defeat to Buchinger and injured the Slovakian's ribs forcing him to withdraw for the tournament.
With Buchinger's withdrawal in-stepped Sean Carter, who had won his tourney reserve bout earlier in the night, an undefeated fighter at 7-0 who was now one win away from being Cage Warriors champ. But standing in his way was Scotland's own Stevie Ray who proved to be a little too much of a challenge. Ray defeated Carter at the end of the first round in the main event. "Braveheart" now improved his record to 14-4 and added the Cage Warriors lightweight title to his resumé.
Also there was a massive shock on the card proving that MMA can be unpredictable as massive underdog Aaron Wilkinson defeated 1-6 bookies favourite Bola Omoyele via second round TKO. This fight itself added a bit of confusion to the night as in-between the first and second round referee asked Omoyele a couple of times if he was fit to continue. Nothing stood out from the fight that looked like it might have injured or done massive damage to Omoyele but things didn't look too good from the fighter from there as Wilkinson done well with strikes on the ground a minute into the second round.
MAIN CARD
Lightweight Tourney Final
Stevie Ray def. Sean Carter via submission (RNC) in round 1, 4:40.
Aaron Wilkinson def. Bola Omoyele via TKO in round 2, 1:08.
Kacper Karski def. Leeroy Barnes via sub (D'Arce choke), round 1, 1:35.
Bryan Creighton def. Spencer Hewitt via sub (guillotine) in round 1, 2:48.
Amanda Kelly def. Hannah Stephens via KO (knee) in round 1, 3:40.
Arnold Allen def. Declan Williams via submission (triangle choke) – Round 2, 4:50.
PRELIMINARY CARD
Nad Narimani def. Athinodoros Michailidis via sub (RNC) in round 1, 3:42.
Aaron Blackwell def. Kris Edwards via split decision.
Charlie Watts def. Ben Constantine via split decision.
Cameron Else def. Paddy Pimblett via submission (D'Arce choke) in round 1, 0:35.
Lightweight Tourney Opening Round
Stevie Ray def. Jason Ball via unanimous decision.
Ivan Buchinger def. Mick Sinclair via sub (Americana) in round 2, 1;59.
Sean Carter def. Richard Griffin via sub (RNC) in round 2, 4:38 (tourney reserve bout).