Think what you like when you look back at Brock Lesnar's run in the UFC. Many people roll their eyes while reminding themselves of Brock rolling around the cage away from Cain Velasquez. Regardless of what you think of Brock as a MMA fighter it is undeniable how important he was to the sport and how legitimate his achievements were.
There will never be anyone like him again in the sport. And before you point to CM Punk he himself has admitted that Brock was a totally different animal.
After just one professional fight against a journeyman fighter he stepped into the cage with former heavyweight champ and renowned grappler Frank Mir and while he lost that fight he certainly won the respect of many in the industry. After now going 1-1 in MMA he then went on a four fight winning streak where he won the title and defended it twice.
Of the above mentioned fights Brock told Stone Cold Steve Austin (via FOX Sports) on his podcast that he was only healthy for three of these fights.
"You saw me (at 100%) in the fight against Randy (Couture) but it got worse," Brock said. "When I'd get halfway through a training camp and I knew something was wrong. There's something physically wrong with me so I need to figure it out."
Brock explained how he felt robbed by the disease while saying he doesn't know if he would be a pro-wrestler today had it not been for the diverticulitis, the disease that twice ruled him out of action for a year during his short MMA career.
"I felt robbed by diverticulitis. I felt robbed by being sick," said Brock. "It was really unfair for me. To this day, I don't know if I'd be a pro wrestler if I hadn't gotten sick. I may not be here. I'd still be banging heads."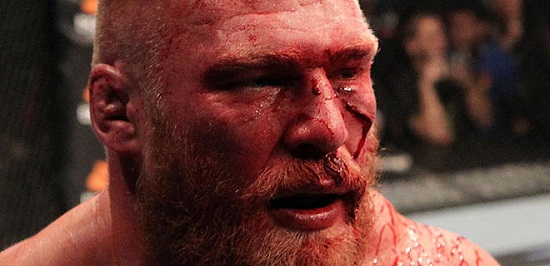 The 38-year-old also spoke about nearly coming back to the Octagon at the start of the year but conceded that he wasn't there mentally to step back into the cage again.
"I started training camp. I wanted to test myself and see where I was, not more physical, but mentally. I wanted to see the mental challenges that it was going to take. If your head's not in the game, the last place you want to get into is in the Octagon."
Brock ended his career with back to back TKO losses to Cain Velasquez and Alistair Overeem and a bunch of 'what if' questions. These days he works a minimal schedule with the WWE but implements a lot from his UFC days into his performances.